Josef Newgarden has just one item on his agenda for Sunday's season-ending and championship-deciding Grand Prix of Sonoma at Sonoma Raceway.
"We have to win the race to have any hope of winning the championship again," the defending Verizon IndyCar Series champion told NBC Sports' MotorSportsTalk. "Win, that's all, that's everything on Sunday."
While Newgarden said his normal race strategy will remain the same, the biggest key is to be aggressive, proactive and take chances if the opportunity exists without bringing his day — and championship hopes — to a premature ending.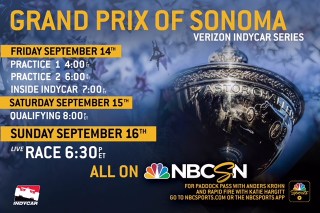 He also has to hope Verizon IndyCar Series points leader Scott Dixon and Alexander Rossi (29 points behind Dixon and 58 points ahead of Newgarden and teammate Will Power) have early troubles or poor overall finishes.
The other key, Newgarden said, will be tire degradation, one of his biggest concerns.
"The tire degradation is going to be big," he noted. "With this year's new aero package, we're about 20 to 25 percent down on downforce, which means the tires are going to go away a lot quicker.
"When we did our test here last week, we really saw how bad the tire degradation was. That is going to figure into our strategy, like whether to make it a four- or three-stop (pit stops) race."
Here's a video of Newgarden taking a couple of hot laps around the twisting 12-turn, 2.52-mile permanent road course to give you a feel for the challenges he and more than two dozen other drivers will face in Sunday's race.