This will be one of the biggest weekends of the racing season for the NBC Sports Group.
In a sense, it will be a bookend weekend of sorts, a double-header of the best racing in NASCAR and IndyCar: the start of the NASCAR Cup playoffs in Las Vegas, and the conclusion of the 2018 Verizon IndyCar Series season and crowning of a new champion.
Wednesday, several members of the NBCSN broadcast family took part in a joint media teleconference to talk about this weekend's racing action.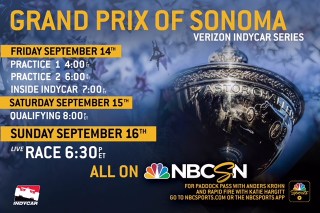 On the call were Dale Earnhardt Jr. and NBC Sports executive producer Sam Flood, along with IndyCar play-by-play announcer Leigh Diffey and analyst Townsend Bell.
Here are some excerpts from that teleconference, with an in-depth analysis of the IndyCar season finale:
MODERATOR: Thank you, everyone, for joining us today for our media conference call to preview our Sunday motorsports double-header. We've got coverage of the 2018 Monster Energy NASCAR Cup Series Playoffs that begin this Sunday from Las Vegas at 3:00 p.m. Eastern on NBCSN. That's immediately followed by the Verizon IndyCar Series championship from Sonoma at roughly around 6:30 p.m. Eastern on NBCSN. Although there are others that have a mathematical chance, the championship is pretty much expected to be won by either Scott Dixon or Alexander Rossi.
In addition to being the championship, Sonoma is the final race of the current IndyCar media rights agreement, and beginning in 2019, as I'm sure all of you know, NBC Sports becomes the exclusive media rights holder for IndyCar, televising and streaming all races, including for the first time the Indy 500 in May.
Joining us on our call today are NBC Sports executive producer Sam Flood, NASCAR analyst Dale Earnhardt Jr., IndyCar play-by-play voice Leigh Diffey, and IndyCar analyst Townsend Bell. Jeff Burton was supposed to be on today's call, but we apologize he has had a travel conflict and cannot be with us.
SAM FLOOD: Thanks for joining us. This past weekend I was in Indy for the Brickyard race, and it was very special being there knowing that we're going to be covering the Indy 500 in May for the first time. One of the great, iconic events on the sports calendar, one of those events you circle, and this new partnership with NBC and IndyCar is incredibly exciting for the entire NBC Sports Group, but particularly for the group of us that love racing and love cars going fast and people having the guts to drive it hard into the corner and have fun on a racetrack.
And I thought the NASCAR crew had fun making magic on Monday. We would have preferred it on Sunday, but they had a lot of fun in the last regular season race on that iconic racetrack, so we were thrilled to be there.
We're thrilled to crown a champion on Sunday out in Sonoma. What a spectacular place to end the season with our team.
And then the playoffs for the Cup Series start on Sunday in Vegas. No better place for a little bit of drama, a little bit of gambling on the racetrack and off the racetrack, and Dale Jr. who gambled on the track for years and is now gambling hanging out with our group on television, I throw it to him now.
DALE EARNHARDT JR.: Yeah, this weekend we've got a full plate, the last regular season race for the Xfinity Series on Saturday at 5:00 p.m. Eastern on NBCSN, and then we'll have the first race of the playoffs for the Cup Series Sunday. That's going to be exciting because the racing over the last several months has been building in intensity. The action has been dramatic and extremely fun to call, and here we are finally at the start of the playoffs that will determine our champion.
We all know how wild and crazy the playoffs get, and with how interesting and dramatic the regular season has been this year, much more so than I believe in the past, I can just imagine this playoff 10-week stretch is going to bring excitement and drama that we've not seen in some time. Las Vegas will be a great, great place to kick this off, and I know our drivers love to race there. They want to win there because it's such a marquee market. It's an incredible experience to win at Las Vegas. With it being the first race of the playoffs, it puts even more importance on that event, and a win gets you automatically into the next round. Some guys will be eliminated not mathematically but mentally eliminated with poor finishes on Sunday.
So it'll be interesting to see what happens. Can't wait to get there.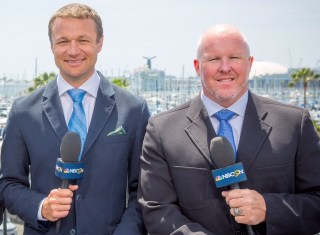 LEIGH DIFFEY:  For all of us at the NBC Sports Group, this is such an exciting time because with the NFL season kicking off, hockey not too far away, with NASCAR taking that first step towards building the Championship 4, ending at Homestead, and on the Verizon IndyCar Series front, it has been a spectacular year, an amazing year.
Scott Dixon doesn't project himself or promote himself all that much. He prefers to be quiet, but we're witnessing greatness with him. If he can win that fifth championship, it would be incredible. And Alexander Rossi, this young American talent who has really stood up and said, I'm here to be the next American hero. It has been something else to witness what he's done this year.
It's the 13th consecutive year that the Verizon IndyCar Series will be decided at the final race, which is something special, and that's a pat on the back for the series, as well. From where all of us sit, there's nothing but excitement. Can't wait for things to get going.
TOWNSEND BELL: The IndyCar Series championship to me this year is really fascinating because of Alexander Rossi, young American rookie that — well, rookie a few years ago that's come on so strong into a series where for the better part of 15 years, Scott Dixon has been the measuring stick. He's been the bar. And he's really stood alone in sort of persona. Doesn't talk a lot, does most of his talking on the track, and has performed year in and year out for so long and really kind of stood alone in his own space, and for the first time I think in Scott Dixon's career, somebody has surfaced and emerged on the scene in Alexander Rossi who is very, very much like Dixon, reminds all of us in the booth of Scott Dixon, quiet, confident, kind of stealth-like execution, and the two of them now find themselves squarely in the points race with double points on the line at Sonoma. I think it's going to be a terrific show.
For the first time in a long time Team Penske is really an outsider, a long shot, if you will, in the points scenario with Will Power, but they were arguably the fastest team at Sonoma over the last three years. So a couple of really fascinating story lines, and I think we'll see some great action on Sunday
QUESTIONS TO INDIVIDUALS:

Question for Leigh and Townsend. I know you talked about it in the introduction, but as the general landscape, what's been the biggest takeaways from this season?
DIFFEY: I think what IndyCar did in bringing on a car that was esthetically pleasing but on the track effective. The fan base really feels like this car in IndyCar with the new aerodynamic package actually looks like an IndyCar. It has that kind of sexy look about it, it has that sleek look about it. It has raced well. Not perfectly, not all races have been fantastic, but for the majority of the season, it's got fans and viewers and us tremendously excited again.
I think while ostensibly IndyCar is an American sport, it has a huge global appeal, and that has really started to resonate again on a global level because people are saying — I mean, there have been folks in the UK recently saying, 'We don't care what kind of motor sport you're into, IndyCar is the one you should be watching right now.'
And I think while the NBC Sports Group represents various motorsports properties, again, that's a huge pat on the back for IndyCar for taking a really proactive step in getting back — a new engine package coming in future years where we'll step back up to 950 horsepower, I think IndyCar has made some really positive advancements to not necessarily win the fan base back but just to say, hey, we're not resting on our laurels, we can always be better, and to me that's been a great takeaway from the year.
BELL: I would just add to Leigh's comments there that stability and consistency have yielded a lot of positive results for the series, so they haven't been chasing new, far-out ideas, they've just been kind of bolting down what they already have and getting advance news out early, like the new TV contract with NBC, the schedule, and you're starting to see the benefit, I think, of steady and consistent leadership, the team of Mark Miles and Jay Frye at IndyCar, C.J. O'Donnell.
They've all done such a great job, so that the stakeholders now have increased confidence in the direction, and you're seeing that now with more entries. We're going to be up into the mid-20s, I understand, next year on full-time entries, where normally we're right around 20 cars full-time. So the demand is up. We see it in some of the events that have been added like Portland and St. Louis where the crowds have been terrific, great energy.
For the first time since I've been involved, there's really just this amazing upward trajectory, and I've been involved for 20 years. So it's very refreshing to see.
Q. Question for Earnhardt Jr.: Can you just kind of talk about the nerves and emotions that take place when you show up at the race on race day knowing that you're in the thick of a championship battle?
EARNHARDT JR.: Yeah, I mean, it's a very tense situation because you spend all year racing, and if there's a mistake or a misstep, those are things that you always — you don't take those too hard. You have in your mind that you can recover, you can rebound, the team can — there's another race, another week. And in those moments racing for that championship and those final events, particularly the last event, there is no tomorrow. A mistake, and it's over. A part failure, and it's over. That is evident in every moment of the weekend. That is hanging over your head and right over your shoulder at all times.
And so the pressure to be perfect, to not misstep, to not make a mental error, by everyone on the team, that pressure is so obvious and apparent.
All the while, you've got to perform. You can't dial it back or be cautious or be careful. You have to be perfect and fast and excellent. That's why teams become champions and some teams don't.
The ones that can still perform under that type of pressure are the ones that hold the trophy.
Q. Question for Diffey and Bell: How impressive is it that Alexander Rossi is doing what he's doing in just his third full season in IndyCar?
BELL: Well, I think the first race Alexander Rossi showed up for was St. Petersburg back in 2016, and if you recall, on the closing stint, final say 30 laps, he was literally pulling over and slowing down to let the leaders by so he didn't get in their way. I'll never forget that moment in the race because it was kind of that sink-or-swim moment for any rookie coming into the top level of any sport, and it's an eye opener, when you realize how deep the pool is or how deep the competition is, and what are you going to do about it, how are you going to go back with your team and analyze your performance and come back stronger.
For Alexander Rossi to do what he did at the Indy 500 his rookie year, I was his teammate that year, and while a lot of people made noise about the fact that it was a win on fuel mileage, I knew as his teammate, having the unique privilege of being able to see his data relative to my data, his performance, that there was an incredible amount of talent in what he was doing in practice sessions, how he worked traffic, how quickly he was learning.
And fast forward now three years later, and he's now met and in some cases exceeded the measure of Scott Dixon, the established milestone, the established marker in the series, is incredible. And he's a guy that I think more than some in our series thinks about and obsesses about performance and racing literally 24/7. He just doesn't really have anything else going on and has that purity of focus that I think you find in a Scott Dixon, you find in a Will Power, and it's no surprise that that obsession and that intensity has yielded the results.
So it's been very, very impressive, and it's so cool that we've got a young American who has basically stopped pursuing a European F1 career to come be an IndyCar champion, and he's on the verge of making it happen this weekend.
DIFFEY: We've used a lot in commentary, and he's not the most outwardly going guy. He's not the biggest personality in the paddock, but one of his common themes is, A, I make no apologies, and B, I'm not really here to make any friends. That's not a cliché, that's his words. So he's here to do one thing and one thing only, and he's probably done it the best this season.
Q. Question for Bell and Diffey: Earlier in the year there was a lot of talk about maybe Rossi being a villain. Where do you think he's come as far as promoting the series of IndyCar, especially when he had Formula 1 dreams early in his career?
BELL: Yeah, I think that Formula 1 European history, he really pursued F1 for the last six or seven years, and coming up through that ladder system, it is an absolutely cutthroat existence because you know everybody you're racing that only less than one of you each season is actually going to get a chance to move to Formula 1 someday. So the probability is definitely not in your favor, and it's every guy for himself.
He came out of that environment into IndyCar, and you see it a lot, Sebastien Bourdais, the same way when he came over, Nigel Mansell was the same way back in the day, they are so used to and kind of hardened by that European experience, and it's frankly nothing against anybody personally, it's just every position is so closely fought, any contested corner like at Road America if you saw how Rossi was racing guys and running people out of the road at the exit and driving right to the limit of what the stewards would allow, race control would allow. He never really had a penalty that I know of this season for rough driving, but he's ruffled plenty of feathers, and he's done it, as Leigh said, unapologetically, and again, it's just that intensity of focus and only really caring about the results.
If that's made him a villain, like Leigh said, I don't think he particularly cares. The results speak for themselves, and that's kind of who he is and how he's going to race, and I think we're thrilled for it. We benefit for sure as viewers, as commentators. It's been an incredibly competitive season.
DIFFEY: And I think the important thing to remember, too, is he did make it to Formula 1, which the majority can only dream of, but in my opinion, the reason he is the driver that he is now has nothing to do with Formula 1 whatsoever. He did five races in Formula 1 in a back- marker team. That wasn't racing. He was staying out of people's way.
Where he learned his race craft was in GP2, now F2, and GP3, where he won races in both categories, as Josef Newgarden was in GP3, Conor Daly was in GP3 and GP2. That's where Alexander Rossi really learned his race craft. That's what he's brought to IndyCar. It's a great thing on his resume that he made it to Formula 1, but he didn't learn his race craft or do anything there. It was in those junior formulae, and it's a benefit and a win for IndyCar to have him here.
Q. Question for Diffey: What do you think the biggest factor has been with the comeback in IndyCar? Is it the car changes? What is it?
DIFFEY: Well, I just think in any business the human resource element, whether that be a race team with the right engineer or the right driver, right mechanics, whatever it may be, IndyCar have made some really great acquisitions as far as people, the right people in the right places, in particular Jay Frye in the competition department. I think Jay has done a really nice job, and there have not been knee-jerk reactions. Himself and his department do a really good job of listening to the drivers. They always get back to the drivers when there's feedback necessary or there are queries or questions.
I just think there was a long period of time where, whether it be back to the mid-'90s when CART and IRL went their separate ways and there was a period there of darkness, of just distance and people kind of went away from the sport because they didn't know which one to follow or they were disillusioned or whatever, and you're not going to get that back overnight, and it's taken many years, and I think with the really encouraging depth of American talent, whether that be Ryan Hunter-Reay leading the charge, Josef Newgarden, Alexander Rossi, youngsters like Jack Veach and Spencer Pigot, the list goes on, Bryan Herta's son Colton Herta, he's going to race this weekend, he's the first kid to ever race in the IndyCar Series born in the 2000s. So the depth of talent is there plus a lot of international talent, and to me that harkens back to IndyCar's big appeal, fast cars, good-looking cars, the four different disciplines of circuits, great American talent, and then other drivers from around the world, and going to places where there is a really good IndyCar fan base.
I can't underscore enough what Townsend mentioned right off the introduction earlier how great Portland was two weeks ago, the weather, the fans, the race, the track, the outcome of Dixon being in that first lap pile-up and then driving out of it. There's just so many good things. I mean, in any sport, people can jump on a downward spiral and try to drive it into the ground, negativity breeds negativity. There is none of that in IndyCar right now.
Everybody is pumped, everybody is feeling positive, and it's on a massive upswing. I think you can point in multiple directions, to answer your question, to attribute this growth in our TV ratings, this growth in entries, this interest in teams, the fact that Fernando Alonso and McLaren would like to be here. There are just so many positives at the moment. I think it's a really great time for the series.