SONOMA, California – When the green flag drops to start Sunday's Grand Prix of Sonoma, Tony Kanaan will set yet another milestone in his illustrious 21-year Indy car career.
When he crosses the start/finish line, the Salvador, Brazil native will officially make his 300th consecutive Indy car race start.
The streak dates back to the 2001 CART race at Portland International Raceway and includes Kanaan's time both in CART and the Indy Racing League (IRL), which eventually merged with the Champ Car World Series (the successor to CART) in 2008.
Kanaan turns 44 on December 31 but said during a Friday media session at Sonoma Racing that he has no plans on retiring any time soon. Wrapping up his first season with A.J. Foyt Racing, Kanaan even joked now that he's about to hit 300 straight starts (and 360 overall), he wants to break Foyt's own Indy car starts mark of 382.
"As a driver, you don't think about stats and that kind of stuff," Kanaan said Friday. "I don't have this habit of looking at stuff. But obviously, I've been around for a long time. I feel very fortunate that I'm still able to do what I love and be around.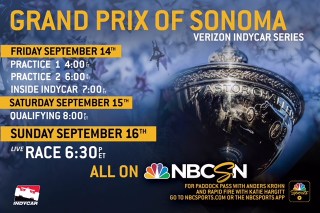 "I love IndyCar. My name was made in IndyCar, and it feels great. It's funny to watch Colton Herta and Pato (O'Ward) walking out, but I was Colton's first sponsor in his go-kart when Bryan (father Bryan Herta) was my teammate.
"So I don't know if I feel humbled or I feel old that I can tell Bryan today that I raced with him and his son at the same time.
"But it's an awesome feeling. Obviously I still enjoy it. This weekend I'm growing my beard so people can see that I've got some gray on my 300th start. But it's awesome.
"I mean, hopefully we'll keep going. Somebody just told me today that by this time next year I would actually beat my boss in most starts."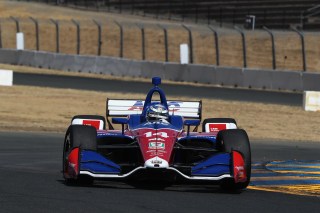 Then, with a laugh, Kanaan added, "A.J.'s the only one that can prevent me from breaking that, so hopefully he won't."
Sonoma Raceway holds a unique place in Kanaan's career. He won here in 2005 – his first and only win on a permanent road course, and one of 17 triumphs in his career.
He also can boast being both an IndyCar champion (2004) and an Indianapolis 500 victor (2013). The 500 win was unquestionably the biggest of Kanaan's career, mainly because he had tried and failed so many times before he finally broke through.
Before he broke through with the 2013 win, Kanaan had several close-but-no-cigar finishes in the Greatest Spectacle In Racing, including third in 2003, runner-up in 2004, fifth in 2006, fourth in 2011 and third in 2012.
"You guys are all aware, my quest of trying to win the Indy 500, and the way we did it that year was extremely special," Kanaan said. "And the next question I got, the next morning, was, 'now what?' As a driver you look for challenges. You go now what, maybe another one, now what, maybe this is it.
"When I got asked that question, I said, it's not a simple answer. Now what is, I want it, so I can do whatever I want, so now I have it. Nobody is going to take it away. … I'm committed to make AJ a successful team again, and we were really close this year at the 500. We had a dominant car again. The story will repeat.
"But yes, I feel complete on the box check of championship and Indy 500, but that doesn't mean that I'm ready to go do something else."
With a best finish of sixth at Toronto and just three other top-10s in the first 16 races, it's been a tough first season racing for Foyt, Kanaan readily admits.
"You know, we're having a challenging year," he said. "We knew that was going to be difficult for us."
But he has optimism to hopefully finish the season off on a strong note.
"Right now, I think this race is wide open with the nature of the track, the weather, the wind changing between morning and the afternoon. I think it's going to be an interesting race. I mean, tire deg (degradation) has been a big issue.
"Everybody is complaining about grip. Not the tire's fault, but I think it's a combination of our downforce, the tires and the type of track. I think it's wide open for anybody.
"Last year, we know Pagenaud winning with the strategy or four stops instead of three. Some people are going to try to save fuel. I mean, it's wide open. And it's a double-points race, so there are four guys going for the championship, but all the other 20 are going for a win, so it will be interesting."
Speaking of going for a win, Kanaan put Sunday's race in an interesting perspective: "It's simple. There's four guys that have everything to lose (Scott Dixon, Alexander Rossi, Will Power and Josef Newgarden) and 20 guys that have nothing to lose. They can figure that out."
As the interview concluded, Kanaan was once again asked about how his career has gone – he simply said "fast" – and how long he will continue to race.
"Not a single day goes by that I don't feel fortunate that I'm still around," he said. "I've been through many things in my career.
"I've lost a lot of friends, a lot of friends got hurt and had to retire, and I'm still here. I feel humbled. I feel very fortunate, and now as a driver, when you start breaking records like that, you just want to keep going.
"My boss raced until he was 56. I don't think I'll make it. I'll be 44 the end of this year. But we still have a few years left, so hopefully this is just the beginning of my veteran career."