Scott Dixon appeared to have the pole, and the crucial championship point that comes along with it, locked up for Sunday's INDYCAR Grand Prix of Sonoma (6:30 p.m. ET on NBCSN).
Dixon had a quick time of 1:17.7599 and, with the checkered flag out, was on his way back to the pits. The other drivers in the Firestone Fast Six (Ryan Hunter-Reay, Alexander Rossi, Patricio O'Ward, Josef Newgarden, and Marco Andretti) appeared to have nothing for him.
However, Hunter-Reay, the last man on track, was able to steal the pole away on his final lap with a time of 1:17.6277, over one tenth of a second clear of Dixon.
More critically, Hunter-Reay took the aforementioned point away from Dixon, meaning Dixon's lead over Rossi remains at 29 points entering Sunday's race.
"We've been in the Fast Six here quite a few times. It's nice to get the pole," Hunter-Reay quipped in the post-qualifying press conference.
Hunter-Reay also added that even though teammate Alexander Rossi is fighting for a championship, his own focus will not be on helping Rossi, but rather on taking the race win himself.
"Big focus on trying to win this thing tomorrow," Hunter-Reay asserted. "We finished second and third here in the past. We would love to get that big bottle of red wine, whatever it is. I believe it's red wine. That's the ultimate goal for us right now. We'll be concentrating on that."
Dixon, meanwhile, admitted that he made a mistake on the track, in Turns 9 and 9a, that ultimately cost him the pole. However, his confidence level remains high ahead of Sunday's race.
"Huge driver error there. Just needed to get through a right and left, and it would have been looking pretty decent," Dixon revealed. "The car felt good. Huge credit to the team. They've done a good job. I think between Portland and here, we came with a pretty different car. It rolled off really well."
Dixon will start second, while Newgarden qualified third. Andretti enjoyed one of his best qualifying efforts of the year to qualify fourth, and O'Ward continued to shine on his debut weekend – he'll start fifth after making the Firestone Fast Six.
Rossi brought up the rear of the Fast Six group and will start sixth.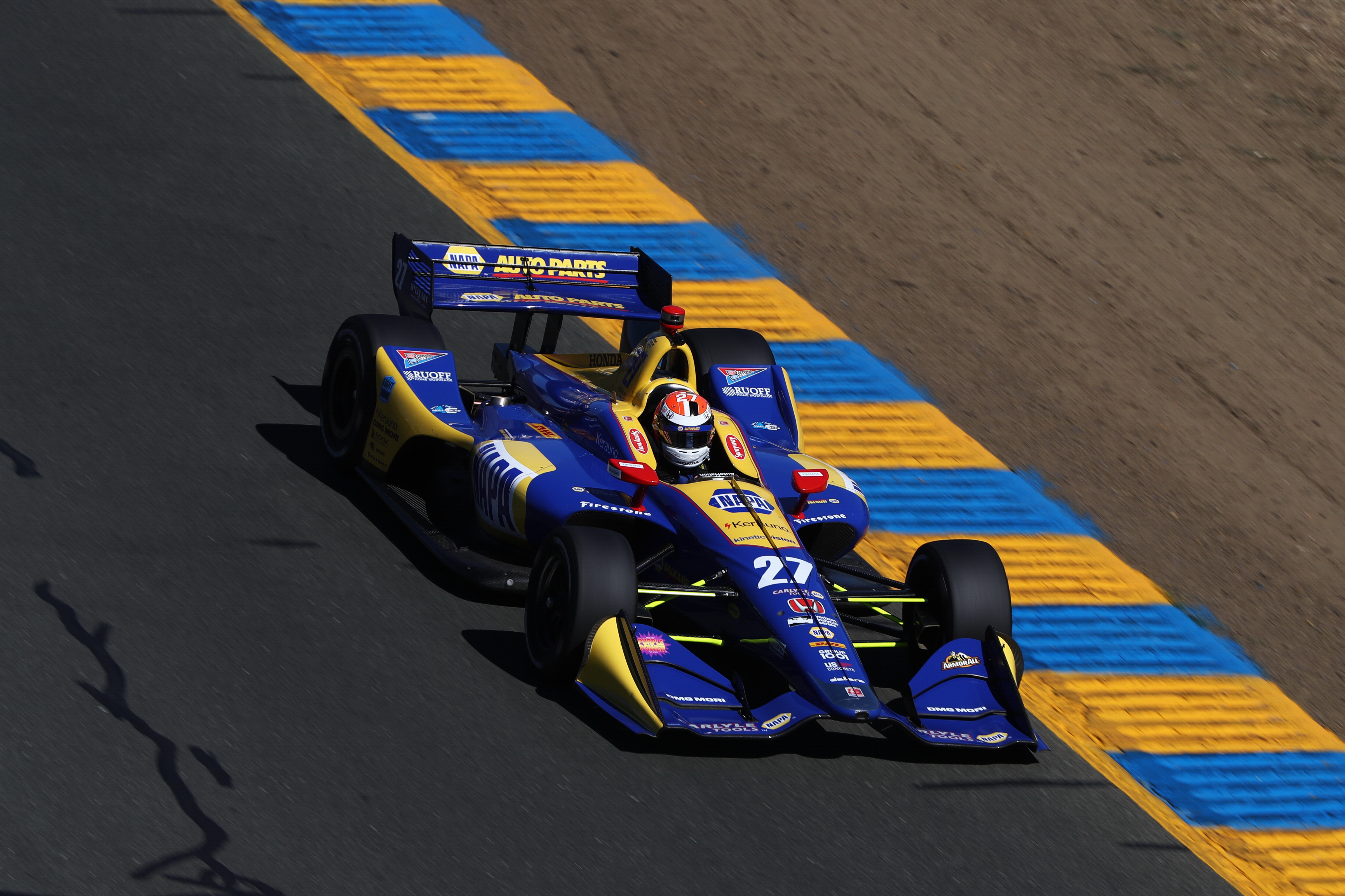 Qualifying, and the Fast Six in particular, was an intriguing display of tire strategy. Most notably, Rossi opted to stay on the Firestone primary blacks in the Fast Six, rather than use a set of the alternate reds.
He explained afterward that he and the No. 27 Napa Auto Parts Andretti Autosport team wanted to try something different, and it backfired.
"I think we made good steps forward from yesterday and this morning to be pretty competitive this afternoon. We tried something a little different in hopes it would pay off. We did the Firestone blacks for the Fast Six. But at the end of the day it clearly is probably not the right decision," Rossi detailed.
Will Power, tied with Newgarden in the standings – both are still mathematically alive at 87 points back – just missed the Fast Six and will start seventh. His Team Penske teammate Simon Pagenaud qualified right behind him in eighth. Graham Rahal, Zach Veach, Sebastien Bourdais, and Takuma Sato also missed the Fast Six after advancing out of Round 1.
Other notables include Ed Jones (14th), James Hinchcliffe (15th), Tony Kanaan (16th), and Colton Herta (19th).
Results are below. Sunday's race, the season finale for the 2018 Verizon IndyCar Series season, rolls off 6:30 p.m. ET.