Editor's note: Starting Thursday and leading up to Sunday's IndyCar championship-deciding Grand Prix of Sonoma, we will feature each of the four title contenders.
Today we focus on 2016 Indianapolis 500 winner Alex Rossi, who trails Scott Dixon by just 29 points heading into Sunday's championship showdown.
We will wrap up things with a feature Dixon on Sunday morning before the race (live on NBCSN, 6:30 p.m. ET/3:30 p.m. PT). We kicked things off Thursday with Joseph Newgarden and Friday with Will Power.
In a sense, Alexander Rossi can be considered as the next Scott Dixon in waiting for the IndyCar Series.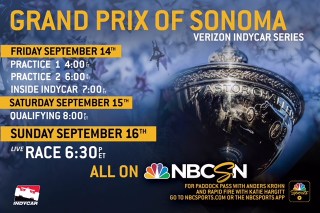 Dixon has a decade of age and tons more experience, wins and championships than Rossi, but the pair is very similar in several ways:
* Driving style: they're both aggressive, but also calculating and intelligent. They are both outstanding at saving fuel, using push-to-pass when most optimal, and are among the drivers who get the most out of their race cars.
* Personality: They're both very laid-back, modest and quiet. Dixon isn't nicknamed the "Ice Man" for nothing. He never gets flustered, drives as if he's playing chess – always thinking of his next two or three moves way ahead before he does them. It's the same situation for Rossi. Like Dixon, Rossi is cool both on and off the racetrack. He doesn't go looking for attention; he lets his driving do the attention getting for him.
* Fan friendly: Dixon has been a long-time fan favorite in the series, while Rossi has quickly gained a large fan base in his three seasons in the IndyCar Series.
* Coveted: There isn't one team that wouldn't want to have either driver behind the wheel for them. But Dixon is locked into a new multi-year agreement with Chip Ganassi Racing and Rossi likely isn't going anywhere from Andretti Autosport anytime soon.
So, it's not a far stretch to consider Rossi, driver of the No. 27 Andretti Autosport NAPA Auto Parts Honda, as, shall we say, Dixon 2.0 – or the coming of the next Ice Man in the series.
That's why it should be exciting and an interesting study in styles as the two drivers battle it out for the 2018 Verizon IndyCar Series championship in Sunday's season-ending Grand Prix of Sonoma at Sonoma Raceway.
Rossi has obviously learned a lot of lessons from Dixon. While the New Zealand native may not exactly have been a direct mentor to Rossi, the young American, it's fairly obvious that Rossi has patterned much of his career-to-date after Dixon.
The stats bear that out: Both drivers have three wins this season. Both have eight podium finishes. Both are almost identical in the number of laps they've completed this season (Dixon 2,279, Rossi 2,281). Rossi has led 415 laps, Dixon 357. Dixon has a better start/finish average (7.9 and 4.4) to Rossi (6.3 and 5.6). Neither has had a DNF in 2018.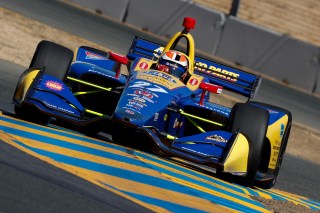 And most importantly coming into Sunday: Both are 1-2 in the championship battle, with Rossi 29 points behind Dixon.
"It's a privilege to be mentioned in the same sentence as Scott Dixon, to be able to race against someone of his caliber week in and week out, hopefully get the better of him," Rossi said.
An interesting stat that some may not be aware of is through the course of the season, Dixon has been as far back as seventh position (after both Phoenix and Alabama), but Rossi has NEVER been ranked any lower than third after all of the first 16 races this season.
Dixon has been No. 1 in the standings for the entire second half of the season – that's the last eight races – while Rossi has been ranked second for the last four races and no lower than third since Mid-Ohio.
Now it all comes down to one race, 85 laps around the 12-turn, 2.385-mile permanent road course that will host IndyCar for the 14th and final time on Sunday.
IndyCar has decided to shift the final race of the season in 2019 from Sonoma to Laguna Seca Raceway, about 100-plus miles south. While there's a chance IndyCar could return to Sonoma in the future, there is no indication of when – or if – that may happen.
Getting back to Rossi, he's looking forward to what is considered his home track, even though it's a track he does not rank among his favorite on the circuit.
Rossi finished fifth in his first IndyCar race at Sonoma in 2016 and was 21st in last year's race there.
Rossi tested at Sonoma on Thursday along with several other teams and feels confident that he can put on a strong performance and challenge for the championship with a large contingent of family and friends that will be in attendance.
"I think we found quite a bit of performance on road courses the second half of this year, really from Road America onwards," Rossi said. "Hopefully that carries forward to Sonoma, we had a constructive test on Thursday, maximize that time, build a fast racecar.
"It's no secret it's pretty hard to pass around Sonoma. We need to make sure we have a car we can qualify up front with."
Rossi has been on an upward route since his rookie season in 2016. He shocked the world by winning that season's Indianapolis 500, and finished the season 11th.
Last season, Rossi finished seventh, due in part to a strong second half that laid a good foundation for the kind of season he's had this year.
"Really, from the middle of 2017, I thought we can definitely do something, making the steps forward we needed to," Rossi said. "I think that every time you get in a car, you learn something new.
"You're trying to be better and learn from the people around you, your teammates, other drivers. I don't know that there's one area in specific. I mean, I just think you get better overall. The more time you have in the series with the car, the team, on track, you see upticks in performance.
"Really, I think the big thing for us this year is just going back to a spec aero kit. It's really leveled the playing field and taken away advantages that teams have had in the past, just given us some opportunity to show the mechanical capabilities of our car, the strength of the Honda engine, all of that.
"I think it's a lot of factors as to why we've been competitive in 2018. It's not down to one thing by any means."
But indeed, there is just one thing that is first and foremost in Rossi's mind on Sunday.
"You don't change your approach," he said. "I mean, I'm going to win, I'm going to try to beat people, do exactly what we've been doing all year. That's our only responsibility.
"If we win, we've done our job right. If it doesn't happen, that doesn't really matter. We have to go into the weekend and do all we can do to maximize ourselves, our potential. We have had a car in contention to win a race probably 90 percent of this year. There's no reason to change that now."