SONOMA, California — When you talk about the best drivers in Indy car racing history, by winning his fifth career Indy car championship Sunday, Scott Dixon indisputably and unequivocally is now in the same rare Indy car fraternity as legendary A.J. Foyt and Mario Andretti.
Consider:
* Dixon is now only the second driver ever in Indy car racing to win five championships – and the first to do it in 51 years! That's more than a half-century. The other driver to ever reach five wins is Foyt, who ultimately would go on to win seven titles in his illustrious career.
* With Sunday's crown, Dixon passed Andretti, who earned four Indy car titles in his own illustrious career.
* With three race wins in 2018 en route to the championship, Dixon is now up to 44 wins in his Indy car career. That leaves him only eight away from tying Andretti for No. 2 on the sport's all-time wins list.
* Given that since 2013, Dixon has earned 15 wins and three of his five career Indy car championships, one must wonder how much more prolific he'll continue to be in 2019, 2020, 2021 and beyond. At the rate he's going, Dixon potentially could tie and even break Andretti's 52 wins within the next 3-4 seasons.
* Foyt's 67 career wins may be a bit too far for Dixon to achieve. But looking at it from a glass half-full, half-empty perspective, if anyone can top Foyt, Dixon may be the only driver that ever could. It may take him another decade – along with the potential of winning another 2 or 3 or more championships in the process – but don't completely rule out Dixon catching Foyt.
* And if that were to happen, Dixon would truly, positively be the absolute best there ever has been in Indy car racing.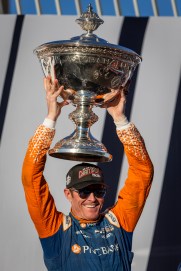 Now, enough with the statistics. Let's talk about Scott Dixon the man.
One of the definitions of the word "humility" is this: "a modest or low view of one's own importance; humbleness."
Humility could very easily be Dixon's middle name. He doesn't toot his own horn or say how great he is, even though with his kind of career numbers, he certainly could.
When asked after Sunday's race whether he considers himself among the best Indy car drivers ever, the 38-year-old New Zealand native immediately demurred.
"I don't see myself that way at all," he said, almost blushing. "I feel lucky, am very blessed in many ways. … I feel lucky I get to do what I love to do, get to work with the best in the business."
But one of the best ever? Nope.
"I guess I just don't see it that way," Dixon reiterated.
No one could have imagined how Dixon would fare when he joined Chip Ganassi Racing just three races into the 2002 season when his team, Pac West Racing, folded.
Not team owner Chip Ganassi, not chief strategist Mike Hull, not even Dixon himself.
But there was something about Dixon that Ganassi just knew that he had to sign him and field a race car for him. He knew he had talent, having earned a win and two podium finishes in his rookie CART season with Pac West the year before in 2001.
Yet there was more to Dixon than just having a heavy foot and sharp reflexes to muscle a car through one turn after another.
Ganassi liked the way Dixon carried himself both inside and outside of a race car. He had a confident but quiet and modest air.
Perhaps more than anything, it was the humility that Dixon displayed back then – the same kind of humility he still displays today – that sold Ganassi on the young Kiwi.
And continues to be sold on more than 16 years later into their relationship.
Dixon is the consummate professional both as a driver and a human being. He's a dedicated family man, has never been involved in any type of scandal, never has been arrested nor had his name splashed across the front page of a newspaper for anything else other than being the great driver he is.
Another illustration of Dixon's humility was seen as soon as he climbed out of his race car in victory lane. Instead of stopping to be interviewed on TV, he first made a beeline to his crew members, to thank each of them personally.
Then, when he finally did turn around to face the camera, the first thing Dixon said wasn't about how happy he was to win the championship, but rather how appreciative he was to his wife and for the guys that made it happen, his team.
"I can't thank everyone enough, my wife Emma, the team, my teammate (Ed Jones), everybody involved," Dixon humbly said. "This doesn't come without a lot of hard work."
Then, when he walked into the media center to be grilled by reporters, one of the first things out of Dixon's mouth was:
"Got to give huge credit to the team. They kind of just went on a wholesale change, everything worked out perfectly, the car had some great speed."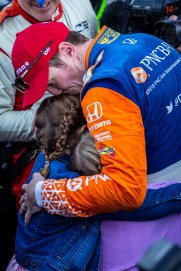 He also exalted that his daughters, Poppy and Tilly, were in attendance to see Dad win it all.
"So cool to have Poppy and Tilly here," Dixon beamed with pride. "It's their first championship. They've been to a couple race wins, but it was really cool to have them here today."
Obviously, racing is a sport where fans cheer for their favorites and boo those they don't like. But admit it, when was the last time you ever heard Dixon get booed?
Virtually every fan at Sonoma Raceway applauded Dixon after he crossed the finish line for a job well done in winning the championship and doing what he needed to do to beat chief challenger Alexander Rossi.
Then there were the countless fellow drivers, owners and crew members from other teams that came up to congratulate Dixon on No. 5.
Not only is it rare to hear Dixon being booed, when was the last time a fellow driver criticized or outright blasted Dixon?
You might be able to count the number of times that's happened in his career on one hand – and have a few fingers still left over.
Dixon truly is humility personified in a sport where being humble isn't the easiest way to be. Some might even view humility as some sort of weakness.
But if there ever was a dictionary written about Dixon, alongside the words "humility" and "respect" would be his photo.
Even though Dixon "doesn't see it that way," there's no disputing that the IndyCar world DOES see it that way.
"I've said it a thousand times, he's the guy on the track, off the track," Ganassi said of Dixon. "If you take a piece of stone, inject some brains into it, chisel it out, it's Scott Dixon. He's just the man."