The 2019 Monster Energy AMA Supercross schedule will have a good mix of returning markets, one brand new market and three other markets that will see a return by the series.
"The 2018 season proved once again that Supercross is a very exciting sport," FIM president Vito Ippolito said. "It kept us on the edge of our seats until the final round in Las Vegas.
"Supercross is also a demanding discipline and one that brings the best out of the riders and their teams. But most of all, it is an unpredictable sport that can take us all by surprise!"
The series will feature 17 events in 16 markets over 18 weeks. Nashville is new, while the series returns to Ford Field in Detroit and MetLife Stadium in East Rutherford, N.J., after both were last on the schedule in 2017.
And then there's a long overdue return to Denver's Broncos Stadium (formerly Mile-High Stadium), which last hosted the series in 1996.
Nashville's Nissan Stadium will play host to the Supercross series for the first time in its 45-year history.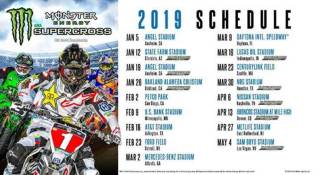 The five-month schedule kicks off, as is tradition, at Angels Stadium in Anaheim, California on January 5, 2019 and concludes in Las Vegas on May 4.
"Much kudos goes to the 2018 AMA Supercross FIM World Champion Jason Anderson, who is a worthy successor to Ryan Dungey," Ippolito said. "We are looking forward to a successful 2019 season."
Technology both on and off the courses continues to be a hallmark of the Supercross series.
"We're continuing to improve the fan experience and live entertainment aspect of the sport by using state-of-the-art technology, from spidercam footage and live heart rate monitor displays, to featuring a festival-like atmosphere in the paddock," said Dave Prater, Senior Director of Operations for Two-Wheel, Feld Entertainment. "As we head into 2019 with a brand-new defending champion for the first time in four years, Jason Anderson will certainly be the one to watch.
"That, combined with the sport's first-ever developmental platform for Supercross amateur racing, will ultimately set the stage for years to come."
Anderson earned his first career 450SX Class crown in the final round of the 2018 season this past May 5. It was also the first time that Rockstar Energy Husqvarna Factory Racing has earned the 450SX Class title.
Also new to the schedule is the eight-race Supercross Futures, which culminates in an AMA Amateur National Championship. for the first time. The first Futures event will be Jan. 13, in Glendale, Arizona.
The Futures championship will be decided Oct. 20-21, 2019, following next year's Monster Energy Cup in Las Vegas.
Tickets for the 2019 season will go on sale on Tuesday, October 23 with a presale date of Tuesday, October 9.
Before that, though, the top Supercross riders will take part on Oct. 13 in the invitation-only Monster Energy Cup all-star event in Las Vegas.
Marvin Musquin won last year's Cup event at Sam Boyd Stadium and is seeking to become the first rider in Supercross history to ever win the "Monster Million" twice.
"AMA Supercross is among the most impressive displays of two-wheeled motorsports in the world, and for many amateur AMA racers, it represents the pinnacle of their competitive dreams," said AMA President and CEO, Rob Dingman. "Since the first AMA Supercross Champion was crowned in 1974, the sport and spectacle have grown and evolved, thanks in large part to the close cooperation with our promoting partner, Feld Motor Sports.
"Generations of some of the world's greatest motorcycle racers have held high the AMA Supercross No. 1 plate, and I can't wait to see who earns that honor in 2019."