There's the Indianapolis 500 and the Daytona 500.
And now there will be the Tony Schumacher 500.
Schumacher will make the 500th start of his illustrious Top Fuel drag racing career at this weekend's AAA Insurance NHRA Midwest Nationals at Gateway Motorsports Park in suburban St. Louis.
No other driver in Top Fuel history has made 500 starts.
"As a 16-year old, I never imagined I'd be able to do this for so many years," said Schumacher, the winningest Top Fuel driver in NHRA history.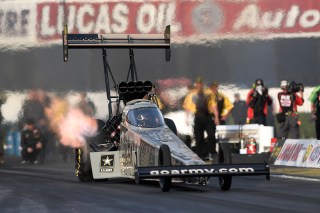 The son of legendary racer and team owner Don Schumacher, Tony began his Top Fuel career in 1996 with a runner-up finish at the NHRA U.S. Nationals.
Now, 22 years, 499 events, eight NHRA Top Fuel world championships, 84 event wins and soon-to-be 20 consecutive Top 10 finishes later, Schumacher's career is – as his PR person so aptly put it – "One jam-packed highlight reel."
One moment in one race stands out above all others in his career – the 2006 World Finals at Pomona, California – for Schumacher during his career.
He had to win the race and set the national record in the final round to win the championship.
"People expect me to say it was 'The Run,' but that wasn't it," Schumacher said. "It was the moment before 'The Run.'
"It was that moment when we were sitting on the line, looking at the mountains in Pomona knowing we had the biggest task ahead of us, but knowing we had nine guys capable of accomplishing that task.
"To this day, it is one of my favorite memories. Before every huge accomplishment, there's a moment, and that one was just awesome."
While there have been seven other NHRA drivers that have reached 500 starts, none have ever done so previously in Top Fuel.
Schumacher's teammate at Don Schumacher Racing, 2016 Funny Car champ Ron Capps, is among those seven other drivers in the 500 Club. Capps will make his 527th career start this weekend.
"That fact that we've lived this for so many races, 499 of them, is incredible," Tony Schumacher said. "This is a sport where it's hard to stay relevant. So many teams have come and gone over the years.
"We had a beautiful sponsorship for a long time (the U.S. Army has sponsored Schumacher for nearly 20 years, but this will be its final year backing his Top Fuel efforts, as well as those of teammate Antron Brown), a championship contending car every year.
"It's been an awesome array of people, from Dan Olson, my first crew chief at DSR, to Alan Johnson, Mike Green and now Mike Neff; all of these incredible people helping to produce wins and championships.
"That's what helps us stay alive in this sport. We're constantly fighting to be No. 1; you can only be average for so long. If you're just average, you're not going to survive out here. You need to win championships."
One race into the six-race NHRA Countdown to the Championship playoffs, Schumacher comes into this weekend tied for second with Clay Millican in the Top Fuel standings, both drivers 50 points behind series leader Steve Torrence.
While Schumacher has a record eight championships, it's been a while since his most recent title in 2014. The Austin, Texas resident and Chicago-area native is bound and determined to earn No. 9 this year.
"I get it has been (nearly four) years (since his last title), and trust me, it seems like a drought," Schumacher said. "But when you think about it, we've had an amazing record, and we'll keep adding to it."