Grosjean Three Penalty Points Away from a One-Race Ban
Haas F1's Romain Grosjean could face a one-race ban if he accrues three more penalty points, per Formula1.com.
Grosjean, who had seven penalty points to his name entering last week's Grand Prix of Singapore was assessed two more for ignoring blue flags in last week's race.
Grosjean was in the midst of a battle with Sergey Sirotkin as race leaders Lewis Hamilton and Max Verstappen approached. FIA rules dictate that when a driver is given a blue flag, he or she must move over and let the faster car(s) through, irrespective of any in-race battle they may be involved in.
However, Grosjean continued to push Sirotkin as they battled for position, and did not immediately yield to Hamilton, which allowed Verstappen to close in.
Hamilton and Verstappen both eventually got by, though Hamilton was particularly alarmed by the incident.
"These guys were moving around … and they wouldn't let me by," he said in the aforementioned Formula1.com story. "It was definitely close and my heart was in my mouth for a minute."
Grosjean did issue an apology afterward, and offered his side of the story.
"I'm sorry if I blocked anyone, it was not my intention," Grosjean said. "I believe I did my best. I was fighting with Sergey, who was doing a little bit of go-kart racing out there. I couldn't really slow down. Pierre [Gasly] was on my gearbox and Sergey was on my front wing. I passed him, then as soon as I passed him, I let Lewis by."
Any driver who accumulates 12 penalty points in a span of 12 months is automatically handed a one-race ban. For Grosjean, his current tally began on October 29, 2017, meaning if he receives three more between now and October 29, 2018, he will be forced to sit out one race.
F1 Signs Sponsorship For In-Play Betting
Per BBC Sport, Liberty Media, which owns Formula 1, has signed a sponsorship rights agreement with Interregional Sports Group to develop and manage in-race betting platforms for grands prix.
The sponsorship, worth a reported $100 million U.S. dollars, would help generate "new ways to engage with the sport," said managing director Sean Bratches in the BBC Sport story.
Liberty and F1 officials would also work with Sportradar, which collects and analyzes sports data, to track betting and ensure no fraudulent activities take place.
Arrivabene Takes Responsibility for Ferrari Missteps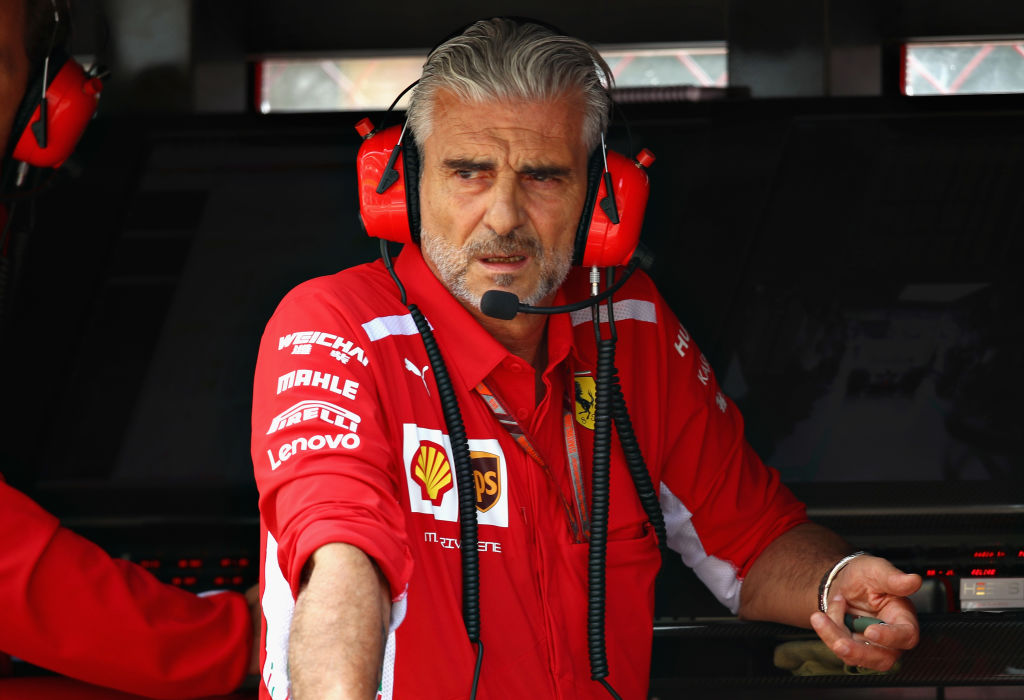 Ferrari team principal Maurizio Arrivabene has said he accepts full responsibility for the miscues Ferrari has made during the 2018 Formula 1 season.
"The only mistake you see in front of you is me. I'm responsible for the team," Arrivabene said in a piece posted on Crash.net.
He added, "When the result is not coming, it's my responsibility. Not the responsibility of Sebastian (Vettel) or the engineer or the responsibility of the mechanics. It's my responsibility."
The statement, made on the Friday press conference prior to the Singapore Grand Prix, is especially poignant in the wake of a somewhat clumsy Italian Grand Prix. The team faced criticism after Kimi Raikkonen scored the pole, ahead of the championship-contending Vettel.
Vettel, too, has not been infallible. Most notably, he had contact with Valtteri Bottas on the opening lap of the French Grand Prix, spinning Bottas and damaging Vettel's front wing – Vettel eventually finished fifth – and he crashed while leading the German Grand Prix. These incidents are among multiple black marks that have blighted Vettel's championship challenge.
However, despite the errors, Vettel remains unshaken ahead of the final six races of 2018.
"We don't have to fear any track that is coming, our car is working well in every track, so there's nothing to fear until the end of the season. Russia should suit our car, it's getting better for us every year," Vettel said in a separate Crash.net piece.
He added, "There are still a lot of races to go and points to score. I never believed we have the faster car by a large margin like people said, but I know we have a very good car."
Currently, Vettel trails Hamilton by 40 points in the driver's championship, while Ferrari trails Mercedes by 37 points in the constructor's championship.