There's nothing wrong with self-promotion in motorsports, particularly if it brings greater awareness of and fan interest to a certain driver.
And the more creative the self-promotion, the more attention the driver hopes he will get from fans and media.
Such is the case with IndyCar driver Jack Harvey, who this past week debuted a new mini-series of sorts about himself as a driver, his personality and interests, and behind-the-scenes scenarios of his team, Meyer Shank Racing with Schmidt Peterson Motorsports.
The new monthly get-to-know-me series of videos is cleverly dubbed, "You Don't Know Jack."
The goal of the videos is ultimately to get you to know a lot about Jack. The plan is to have a new video released on the third Thursday of every month throughout the off-season and into the 2019 season.
Harvey competed in six races for the Meyer Shank operation in 2018, with a top finish of 12th at Long Beach. He also was in contention for the Indianapolis 500 before falling back late in the race to a 16th-place showing.
But really, who is Jack Harvey? That's where "You Don't Know Jack" comes in. With Harvey and MSR set to do as many as 10 races next season – up from six in 2018 – and potentially a full-time effort in 2020, he's hoping to attract more fans and interest to his team and himself.
Here's the first video, followed by a Q&A with the 25-year-old Bassingham, England native on his thoughts behind the series.
Q) How did "You Don't Know Jack" come about?
Harvey: It's something my dad and I had been talking about for a while, like a website feature. It's always been one of those things that has been on the back-burner, but we wanted to put something out there where people might not know or have easy access to – and give people a different insight – but it just never really happened.
But this year, our following is growing and it seems like people are always commenting or saying something might be a cool idea, or they'd like to learn more about something that we can't always say. I thought that was a great idea, kind of like our old website idea. It kind of spiraled from there and into this. We kind of wanted something that would be funny and people would take it light-heartedly, but also informative and give people insight into what I have to do, what I want to do, all the people we work with, people you see at the track and don't see at the track, the unsung heroes.
Q) The first video is very well done. It was the perfect balance of light-heartedness as well as informative-ness.
Harvey: That's what we're trying to strike. Some episodes may have a slightly heavier feel to them, but honestly, we just wanted to hopefully get a bit of traction, people might share it and retweet it. We felt that if we could just get it out there, hopefully it will go very well. It's meant to be consistent every month, the third Thursday of every month. It's one of those things where you want your personality to come through a little bit, and also know there's a serious side to it. I was thrilled when I saw what was put together for Episode 1.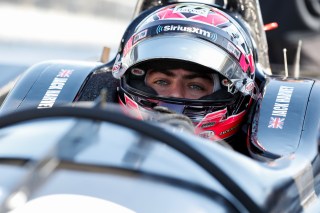 Q) How many episodes do you plan on doing? Will this just be during the off-season or will it continue into the season?
Harvey: Honestly, this is sort of a thing that we'd like to do every month (including into next season). With the (2018) season now finished, we don't want to spank people with just rubbishing their time. We want to make sure we have something that's worth looking at and it's worth everyone's time and the investment into to hope it goes well. Certainly, the goal is just to get the first video up and running. And we're excited about the next one that will come out next month, and a different video every month after that. That kind of combination, if they start to fall the right way and get the traction we'd like to see, people will look at it.
It covers a lot of ground. It allows people to get inside the team and me, and also allows us to give back a little bit to our sponsors, to publicly acknowledge the support we get from them. It gives insight for people into me as a person. One of the things we might do in an upcoming episode is to do a shop tour of Meyer Shank Racing, as well as Schmidt Peterson Motorsports, to show both of our teams. People don't always know those things, they don't always see it.
So we may have someone follow me around the race weekend and see from when I get up in the morning until I go to sleep. Another one might be what I do across an average week. I mean, I like to go to the movies. Maybe we could have a section on that.
I'd like to give them more than just what we do at the track. I'd also like to maybe do something on my fitness trainers and the importance of training, or some of the things our sponsors are doing because some of those things are pretty cool.
Q) Any other clever ideas on the horizon?
Another idea may be, my manager bought me a guitar for my birthday this year. He said I have too much free time on my hands, especially during the off-season. So one of the things we might do in an episode is, 'Jack learns how to play guitar.'
Q) Given Will Power plays drums and Mikhail Aleshin (sat out this past IndyCar season) plays guitar, maybe you guys could form a band? 
Who knows, Will could play drums, Mikhail could play guitar, I could play bass because it's easier to play than guitar, and then all we'd need is a singer. So if you know anybody, let me know. I'm not a very good singer (he said with a laugh). I feel like Josef (Newgarden) should be the singer because he just has that look (another laugh).
But given Will was singing the Red Hot Chili Peppers and did part of a rap song at Sonoma, maybe we can have him on drums and lead vocals. That would be awesome.