The eighth annual Chris Griffis Memorial Mazda Road to Indy Open Test was held over the weekend at the Indianapolis Motor Speedway Road Course. And the two-day test saw a pair of Andretti Autosport drivers, one veteran and one newcomer, end each day on top in the Indy Lights Presented by Cooper Tires sessions.
Saturday saw incumbent Ryan Norman turn the quick lap of the day at 1:14.9283, which also was the fastest lap of the weekend, in relatively cool conditions. Sunday, the warmer of the two days, saw Oliver Askew, who joined the Andretti camp to test their No. 27 Dallara IL-15, lead the way with a time of 1:15.0008 – Norman and Askew went 1-2 in the combined times for the weekend.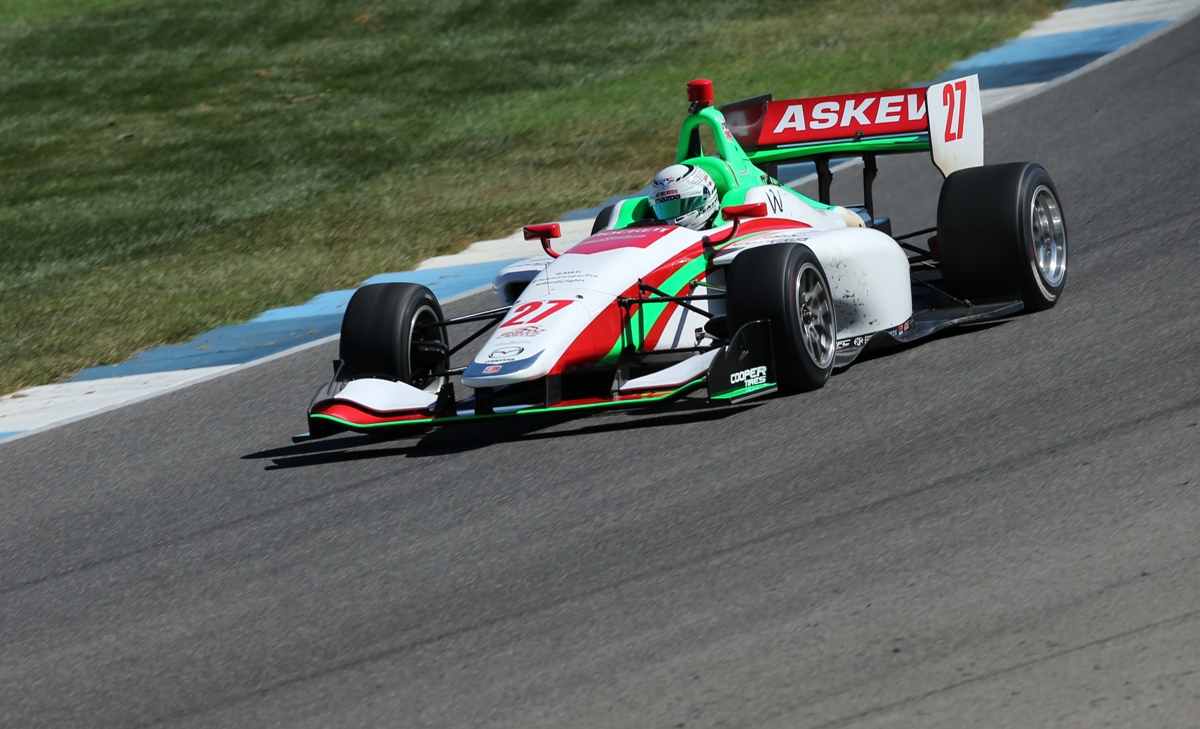 Nine drivers participated in the Indy Lights session, and like Askew, it was the first time in an Indy Lights car for many of them. In fact, the entire top five from the 2018 Pro Mazda Championship Presented by Cooper Tires – Rinus VeeKay (Juncos Racing), Parker Thompson (Team Pelfrey), Askew (Andretti Autosport), David Malukas (Belardi Auto Racing), and Robert Megennis (Andretti Autosport) – all got to sample Indy Lights machinery over the weekend.
Behind Norman and Askew, Victor Franzoni, running with Belardi at the test, was third fastest at the end of the weekend, followed by Megennis and VeeKay. Malukas was sixth, followed by Thompson in seventh.
Lucas Kohl, who competed in the 2018 Cooper Tires USF2000 Championship Powered by Mazda , also got to sample an Indy Lights car as he ran with the Belardi squad, ending up eighth quickest of the nine drivers. Heamin Choi, with Juncos Racing, was ninth quickest.
Along with Indy Lights, Pro Mazda and USF2000 took to the IMS Road Course as well. Pro Mazda saw Darren Keane (RP Motorsport) better Danial Frost (Juncos Racing) to turn the best lap of the weekend. Rasmus Lindh (Juncos Racing) and Julian Van der Watt (BN Racing) were third and fourth.
Franzoni, meanwhile, pulled double duty and piloted the No. 92 Tatuus PM-18 for Turn 3 Racing – Franzoni works as a mechanic, driver coach, and test driver for the team. Franzoni was fifth on the Pro Mazda speed chart.
In USF2000, Hunter McElrea led the way with Pabst Racing, ahead of Keane – Keane also pulled double duty, in Pro Mazda and USF2000 – in a Cape Motorsports entry.
Alex Baron (Legacy Autosport), James Raven (DEForce Racing), and Yuven Sundaramoorthy (Pabst) rounded out the top five.
Results for all three series are below.