Editor's note: Over the next two weeks, MotorSportsTalk will review how each organization in the IndyCar Series performed in 2018 and also taking a look ahead to 2019. We previously featured Juncos Racing, Meyer Shank Racing, Carlin Racing and Harding Racing.
Today, we feature A.J. Foyt Racing.
A.J. Foyt Racing 2018 review: By bringing in veteran Tony Kanaan and rookie Matheus Leist, expectations for an improved overall season were high for 2018. However, things did not turn as had been hoped for, with Kanaan finishing 16th in the standings, the worst single-season showing of his full-time IndyCar career, and Leist ended up 22nd. Still, things began to show promise near the end of the season, which could bode well for 2019.
TONY KANAAN
Team name: AJ Foyt Racing, No. 14 ABC Supply Co. Chevrolet
Years in IndyCar: 21 (includes CART years from 1998-2002)
Career wins and podium finishes: 17 and 77
Best career finish: 17 wins
2018 final standing: 16th
2018 final stats: 0 wins, 0 podiums, 0 poles
2018 best race finish: 6th at Toronto

SEASON WRAPUP: Kanaan got off to a good start with an 11th at St. Petersburg, followed by back-to-back 8th-place finishes at Phoenix and Long Beach. But from there it was a struggle for much of the remainder of the season, with just two other top-10 finishes the rest of the way. It was the first time in Kanaan's full-time career that he failed to earn even one podium in a season. He also has not won a race since 2014.
LOOKING AHEAD TO 2019: Kanaan turns 44 years old on December 31. When he made his 300th consecutive start at Sonoma two weeks ago, he said he had no plans to retire any time soon. No one wants to see him turn things around more than TK. "We still have a few years left, so hopefully this is just the beginning of my veteran career," Kanaan said.
QUOTE (after season-ending race at Sonoma): " I think we found a direction to work on over the winter to make the cars better. … You know, it was a difficult year for us at AJ Foyt Racing but we're coming back. We have the whole winter to think about what we did right and what we did wrong, fix it and come back stronger."
***************************
MATHEUS LEIST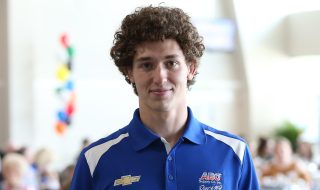 Team name: A.J. Foyt Racing, ABC Supply No. 4 Chevrolet
Years in IndyCar: 2018 was his rookie season
Career wins and podium finishes: 0 and 0
Best career finish: 11th at Pocono (2018)
2018 final standing: 22nd
2018 final stats: 0 wins, 0 podiums, 0 poles.
2018 best race finish: 11th, Pocono
SEASON WRAPUP: Expectations were high for Leist coming into the season. Like Kanaan, he is from Brazil and Kanaan served as an excellent mentor. But Leist never was able to get into a rhythm or consistency, unlike fellow rookies such as Robert Wickens or Zach Veach.
LOOKING AHEAD TO 2019: Now that he has one full IndyCar season under his belt, look for Leist to show some improvement next season. But that improvement also has to be significant. That likely means nothing less than a top-15 season finish will do.
QUOTE (after the season-ending race at Sonoma): "It was a pretty tough season for everyone, not just the No. 4 car, but for the No. 14 car too. Everyone worked very hard and we tried very hard but sometimes we just couldn't put everything together. We just didn't have the pace. It's a shame because all the engineers, the mechanics and the drivers deserve better results. As we're going to stay together as a team for 2019, we must: concentrate and try to do a better job, try to do a better off-season and figure out what is going to be better for us next year. … We'll keep working hard and better days will come, for sure. … I'm looking for a good season in 2019."