Editor's note: Over the next two weeks, MotorSportsTalk will review how each organization in the IndyCar Series performed in 2018 and also take a look ahead to 2019.
Thus far we have featured Juncos Racing, Meyer Shank Racing, Carlin Racing, Harding Racing and AJ Foyt Racing.
Today, we feature Dale Coyne Racing with Vasser Sullivan. 
Dale Coyne Racing with Vasser Sullivan 2018 review: Former CART champ Jimmy Vasser and former IndyCar team owner James "Sulli" Sullivan joined forces with veteran team owner Dale Coyne in early February, just over a month before the 2018 season began.
The team became a one-car effort under the overall Dale Coyne Racing umbrella with four-time CART champion Sebastien Bourdais behind the wheel.
The season began on a strong note as Bourdais won the 2018 opening race at St. Petersburg, Florida, and ended with a seventh-place overall finish after the season-ending race at Sonoma..
SEBASTIEN BOURDAIS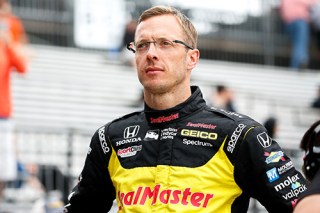 Team name: Dale Coyne Racing with Vasser Sullivan
Years in IndyCar: 12 ½ years (including five in CART/Champ Car)
Career wins and podium finishes: 37 and 56 (includes 31 and 44 in CART/Champ Car)
Best career finish: Has won a combined 37 times, including CART/Champ Car championships in four straight seasons (2004-2007)
2018 final standing: 7th
2018 final stats: 1 win, 2 podiums, 1 pole.2018 best race finish: First (St. Petersburg)
SEASON WRAPUP: The season began with a win at St. Petersburg and a fifth at Alabama and fourth in the Indianapolis Grand Prix. But things took a tumble after a 28th place finish in the Indy 500 (due to a crash). The team failed to gain consistency until the latter part of the season, when Bourdais finished sixth at Mid-Ohio, fourth at Pocono, third at Portland and sixth in the season finale at Sonoma. Still, even though there were some disappointments, Bourdais still managed to finish with his highest single-season showing in his IndyCar career (not including CART or Champ Car).
LOOKING AHEAD TO 2019: This team is much better than its 2018 record showed. Given how strong Bourdais came on in four of the final five races, look for a much stronger season next year. Had it not been for his Indy 500 finish, which dropped him from 3rd to 8th in the standings, as well as struggles at Belle Isle 2 (21st) ad Gateway (21st after first-lap crash), Bourdais likely could have wound up with a top-five finish in 2018. Look for that top-five to come in 2019. Also, Bourdais signed a new two-year contract just before Sonoma to keep him with the Coyne, Vasser and Sullivan organization through 2020.
QUOTE (after season-ending race at Sonoma): "We just did what we had to do (and finished sixth). At the end of the day, it worked out and we finished seventh in the championship, which was the goal (at Sonoma). Thanks to the SealMaster guys, thanks to all our sponsors and let's do it again next year."