Sebastien Bourdais has been where Robert Wickens is, literally and figuratively.
Perhaps more than any other driver on the IndyCar circuit in recent times, Bourdais can most relate to what Wickens, who was seriously injured in a crash at Pocono Raceway on August 19, is going through.
Bourdais was injured May 20, 2017 in a crash at Indianapolis Motor Speedway during qualifying for the 101st Running of the Indianapolis 500. He suffered multiple fractures to his pelvis and hip when his car violently slammed into the outside retaining wall exiting Turn 2.
Bourdais would ultimately miss the next nine races while recovering and rehabilitating, but managed to return to compete in the final three races of the 2017 season.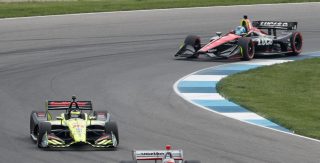 Even though Bourdais said he still feels some after-effects of his 2017 crash, he  went through the full season in 2018, finishing seventh in the overall Verizon IndyCar Series standings.
That included winning the season-opening race in the Frenchman's adopted hometown in the U.S., St. Petersburg, Florida.
In a story on IndyCar.com on Monday, Bourdais told writer Phillip B. Wilson that he visited Wickens last Tuesday, hours before the Victory Lap Celebration in Indianapolis.
"You want to show support and you want to go and see him," Bourdais told Wilson.
Ironically, Wickens is in the same rehab facility that Bourdais was and brought back many memories that Bourdais would rather forget from his own crash.
"Race car drivers don't like hospital rehab facilities," Bourdais told IndyCar.com. "(Wickens' room is) two rooms down from where I was last year, so I don't need any reminders of that."
After already undergoing a number of surgeries to treat a variety of fractures in his legs and hands, as well as a spinal column injury, the 29-year-old Wickens still has a long road of recovery ahead of him.
But the plucky Canadian, who won the 2018 Sunoco Rookie of the Year honors despite missing the last four races of the season due to his injury, has vowed to return to IndyCar racing as soon as he's physically able to, however long that takes.
Driver of the No. 18 Dale Coyne Racing with Vasser-Sullivan, the 39-year-old Bourdais completely understands what Wickens is going through.
"I had never gotten hurt before, so I didn't know what it was," Bourdais told Wilson. "It could have been a lot worse.
"You look at Robbie and it puts things in perspective. I hope he comes back. He was pretty exceptional, to do what he did in his rookie year."
Click here for the full IndyCar.com story about Bourdais and Wickens.