A.J. Foyt spent decades flying around racetracks across the U.S. as a driver.
Now, the legendary 83-year-old Foyt – the first of three drivers to win the Indianapolis 500 four times – will once again be overseeing flying of a different kind around Indianapolis Motor Speedway.
Foyt on Tuesday was named grand marshal for this weekend's Red Bull Air Race World Championship event at IMS. It will mark the third straight year the Speedway has hosted the Air Race.
Foyt will meet all entered pilots before the race and then give a competition command from Race Control to get the flying going.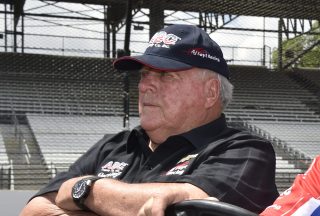 "I'm honored that IMS asked me to be the grand marshal for the air races," Foyt said in a media release. "Any time I can do something at the Speedway, I'm happy to do it because I always enjoy it.
"I owe a lot to the Speedway – that is what made me. It will be my first time to see a Red Bull Air Race, which is something that I'm really looking forward to. I had planned to go last year, but something came up and I couldn't make it.
"I would like to see one before I pass on. I don't have a bucket list, but if I did, this would be on it."
Foyt will travel from his Houston-area home to ride herd over the high-flying weekend, where pilots will roar around pylons suspended in the air to record the quickest time possible.
"A.J. Foyt is synonymous with excellence and speed at Indianapolis, so we're happy to welcome him to the Speedway for this weekend featuring the best pilots and aerial competition in the world," IMS President J. Douglas Boles said in a statement. "A.J. always graciously says that IMS made him, and not the other way around.
"But A.J.'s passion for and success in the Indy 500 add significantly to IMS lore, and it's always special for everyone to have him back home again in Indiana for any event."
Practice and qualifying for the race will take place on Saturday, with actual racing on Sunday.
Pilots in the Master Class and Challenger Class fly against the clock at 200 mph, just 50 feet off the ground, through a course marked by 82-foot-tall Air Pylons over the IMS infield.