2018 Indianapolis 500 winner Will Power and 2018 Formula One Monaco Grand Prix winner Daniel Ricciardo are among eight Australian athletes nominated for "The Don," Australia's highest sports honor.
The award will be presented next Thursday, Oct. 11, at the 34th Sport Australia Hall of Fame Induction and Awards Dinner in Melbourne, Australia.
"The Don" is named after the Hall of Fame's first inductee, the late Sir Donald Bradman. It is annually awarded to an Australian athlete or team "who through their performance and example has most inspired the nation."
In addition to Ricciardo and Power, other nominees are wheelchair racers Madison de Rozario and Kurt Fearnley, soccer star Sam Kerr, Australian men's hockey national team captain Mark Knowles, para-triathlete Lauren Parker and cricket and soccer star Ellyse Perry.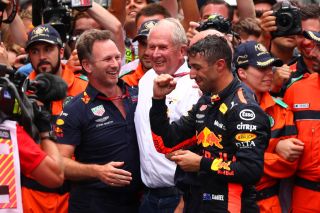 Power is nominated for the first time for The Don, having won the Indianapolis 500 after 11 attempts, becoming the first Australian to ever win the Greatest Spectacle In Racing.
"Because of Sir Donald Bradman's almost supernatural status, being nominated as a finalist for an award named in his honor is pretty intimidating," Power said in a statement released by Sport Australia. "But The Don Award means even more to me knowing that I do share his standards, values and philosophy.
"So even if I don't win, this nomination is something I can take pride in – modestly, of course. It's very satisfying to know that my efforts are being recognized at home because although I live and work in America, I am very proud to always fly the Australian flag."
Ricciardo, who became only the third Australian to ever win at Monaco (others were Sir Jack Brabham and Mark Webber), is nominated for the second time for The Don, having previously being among those considered for the award in 2014.
"Sir Donald Bradman is an Australian legend full stop," Ricciardo said. "To be selected for an award in his name based on my own achievements this year is pretty special. I'm honored."