Editor's note: MotorSportsTalk continues to review how each organization in the IndyCar Series performed in 2018 and also takes a look ahead to 2019.
Thus far we have featured Juncos Racing, Meyer Shank Racing, Carlin Racing, Harding Racing, AJ Foyt Racing, Dale Coyne Racing with Vasser Sullivan, Dale Coyne Racing and Ed Carpenter Racing.
Today we feature Rahal Letterman Lanigan Racing. 

Rahal Letterman Lanigan Racing 2018 IndyCar Review
It was a rough season for RLL, one that definitely could have been better. Graham Rahal, son of team majority owner Bobby Rahal, showed some strong moments at times, but issues here and there – either driver mistakes or car/race problemss – hindered him at times.
RLL also welcomed the return of 2017 Indianapolis 500 winner Takuma Sato, who previously raced for the organization in 2012. Sato would go on to earn RLL's lone win of the season, in the penultimate event of 2018 at Portland, and finished the season in 12th place.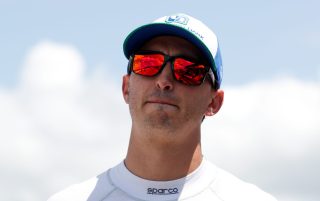 GRAHAM RAHAL
Team name: No. 15 Rahal Letterman Lanigan Racing Honda
Years in IndyCar: 11
Career wins and podium finishes: 6 and 23
Best career finish: 4th in 2015
2018 final standing: 8th
2018 final stats: 0 wins, 1 podiums, 0 poles.
2018 best race finish: 2nd (St. Petersburg)
SEASON WRAPUP: The younger Rahal was on-target to potentially finish the season with a top-5 showing. But three finishes of 21st or worse in three of the last six races dropped him to 8th, the same position he held for those last six races of the season. It was his worst season finish since he was 19th in 2014.
LOOKING AHEAD TO 2019: Rahal has been on a downward slide for the last four seasons, finishing 4th in 2015, 5th in 2016, 6th in 2017 and 8th this past season. Don't be surprised if there are some offseason personnel changes on the team. It has great promise, but needs some new blood.
QUOTE (after season finale at Sonoma): "What happened in the race (finished 23rd due to battery issues) was our year in a nutshell. … We have had a hard year, but I don't think I have ever been as proud to work with a group of guys as I am this year. These guys never quit. They focused on doing the best they could, at all times, and busted their butts. I know this is a great sign of things to come."
********************
TAKUMA SATO
Team name: No. 30 Mi-Jack/Panasonic Honda
Years in IndyCar: 9
Career wins and podium finishes: 3 and 8
Best career season finish: 8th in 2017
2018 final standing: 12th
2018 final stats: 1 wins, 2 podiums, 0 poles
2018 best race finish: 1st (Portland)
SEASON WRAPUP: Sato and RLL had high expectations coming into 2018, but the end result was lacking in several areas. Sure, he had the team's lone win of the season at Portland, but he also had four DNFs (three being crashes, including in the Indy 500, of which he was the defending winner). Sato had hoped to earn at least a top-10 finish for the season, but 3 DNFs in the last six races relegated him to a disappointing 12th place finish overall.
LOOKING AHEAD TO 2019: As difficult as it may be for his fans to believe, the reality is that Sato will be 42 in the 2019 season (birthday is January 28). Prior to his Portland win, there was uncertainty whether he would return to RLL. But now that he's signed for 2019, the question is how productive can he still be. There's reason for optimism: he's coming off his two best IndyCar seasons (8th in 2017 and 12th in 2018). But, in general terms, his performance and that of his team needs to improve significantly.
QUOTE (following the season finale at Sonoma): "It's a pity to finish the season like this especially for the boys who worked so hard the entire season. Of course, we had a good highlight two weeks ago (Portland win), but we wanted to carry good momentum into 2019. Having said that, it was a good day for myself and the team as we announced we were together again next year. The last race in Sonoma is disappointing but there is a great feeling for next year.  We will work hard on development over the winter and come back strong for 2019. Thank you very much to the entire team. I enjoyed the year."