He comes from a family with a famous surname synonymous with a legacy of winning and excellence.
But rather than dealing with bats and balls, George Michael Steinbrenner IV is carving out the beginning of his own legacy on four wheels as the 22-year-old has become the youngest team owner in IndyCar history.
Two weeks ago, Steinbrenner joined forces with Mike Harding, who just completed his first full season as an IndyCar team owner of Harding Racing.
Rechristened as Harding Steinbrenner Racing, the Speedway, Indiana-based organization has been making a lot of noise – positive noise, at that – that has the IndyCar community talking.
And quickly worrying about how good HSR can get — and how fast.
In the last year-plus, Harding has brought in veteran IndyCar official Brian Barnhart to serve as team president, two-time Indianapolis 500 winner Al Unser Jr. as executive consultant, and recently signed Indy Lights champ Pato O'Ward, 19 years old, and 18-year-old Lights runner-up Colton Herta to form a potentially potent 1-2 driver punch for next season.
And now Steinbrenner has been added to the Harding team to form what some believe has the potential to someday become a legendary team to IndyCar as the New York Yankees, the legendary Major League Baseball team Steinbrenner's family has owned for decades.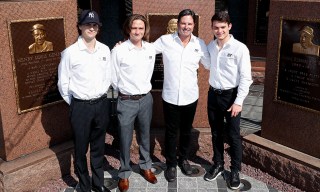 The younger Steinbrenner, who is only a few years older than his new drivers, is no stranger to the world of racing. His grandfather, late Yankees owner George Steinbrenner, once was a partner with legendary Indy car team owner Pat Patrick in several Indianapolis 500s in the 1970s.
Then George's father, Hank, now a co-owner of the Yankees after his famous father passed away in 2010, was a sponsor on Darrell Gwynn's NHRA Top Fuel team in the early 2000s.
George IV has quickly made his own mark in racing, too. At the young age of 20, he became part of a partnership between his father Hank and IndyCar team owner and former champion Michael Andretti that resulted in the formation of Andretti Steinbrenner Racing in the Indy Lights Series in 2017.
One year later in 2018, ASR's two drivers finished 1-2 in the Indy Lights championship battle. And now they will remain as teammates as they shift to full-time status in the IndyCar ranks in 2019.
And right in the thick of things will be George IV. At an age when many are just graduating from college, the youngest Steinbrenner is working on achieving his own dream of graduating into the ownership ranks of the most popular open-wheel racing series in the U.S.
In an exclusive interview, NBC Sports' MotorSportsTalk spoke with Steinbrenner this week. Here are excerpts of that interview:
Q) The name Steinbrenner has been synonymous with baseball. How is it you became a gearhead?
A) My love for IndyCar first started with Tony Renna, my cousin on my mother's side. I grew up watching him race when I was very, very young. That's what sparked my first interest in the sport. Once he passed (Renna was killed Oct. 22, 2003 in a crash while testing at Indianapolis Motor Speedway), there was a little bit of time where I didn't watch (IndyCar racing) until I was about 8 or 9 years old, when I started watching it full-time again and fell back in love with it again and following the sport and growing that passion I had. It's grown more since then, going to more and more races every year, and now, thankfully, being able to go to all the races.
Q) What was it specifically about IndyCar that did it for you, as opposed to, say, NASCAR or NHRA?
A) A lot of it was that I was exposed to it early. I never watched NASCAR or Formula One when I was young. Now, I love Formula One as well, but it wasn't my first love like IndyCar. Being exposed to it early, falling in love with motorsport in general and IndyCar being my first love and still my favorite form of motorsport because it's so unique. You don't have that many series where you run ovals, road and street courses, and to do it open-wheel and have cars so good in both disciplines, any time I go to the (Indianapolis Motor) Speedway in May and see those cars take one of those four turns, it's the best thing you'll see a car do on a track.
Q) How did your Indy Lights partnership with Michael Andretti come about in 2017?
A) It started with Colton Herta. I met him when he was racing Skip Barber (Racing Series) when he was 12 years old. And my stepfather, Sean Jones, was a Junior Formula driver in the Barber Saab Series in the late 1980s and also drove against Bryan Herta (Colton's father and minority owner of Andretti Autosport). They've been very close friends for 30 years now. Sean and my mom took me to watch Colton race at Lime Rock in 2012, and I've followed his career from there. He moved to Europe to run F4 and F3, and he decided to come back to run American open-wheel. He was looking to get into Indy Lights. I had spent a year working for Bryan's (Herta) Global Rallycross program and I knew I wanted to get into team ownership. It's something I wanted to do since I started watching the series. So, putting all the pieces together, going to Michael Andretti and forming the partnership with Colton behind the wheel, all the pieces kind of fit together perfectly, so that's where it all started.
Q) Given how young you are, did you ever think about racing as a driver yourself?
A) I never really did. I had grown up around the management side of sports my whole life, and the sports figures I sort of idolized were those people behind the scenes. My grandfather was first, and then going to the IndyCar races and seeing Michael Andretti, Roger Penske, A.J. Foyt, those were the ones, the guys I really looked up to. I always had interest in running a sports program, and with IndyCar being one of my passions, it was always what I envisioned myself doing if I ever got involved in IndyCar. It was never at the forefront of my mind to get behind the wheel (as a driver).
I think it's certainly exciting for people looking at us to be a darkhorse next year. I think we'll surprise a lot of people.
Q) Joining forces with Mike Harding to form Harding Steinbrenner Racing, you have made a tremendous impact in the sport already. People are already talking about HSR as this potentially could be one of the biggest sleeper teams in 2019. You have all the pieces in place and you're kind of the last piece of the puzzle. That has to make you feel pretty good, knowing all that about a team that is going into just its second full-time season as an IndyCar team, right?
A) It does feel really good. Credit to Mike Harding. He has an uncanny ability to bring people on board and on to his side. He's put together a great program in such a short amount of time, bringing myself on board as well as (forming) Harding Steinbrenner Racing. I think we'll surprise a lot of people. We have two of the best young drivers under 21 on the planet. I think it's certainly exciting for people looking at us to be a darkhorse next year. I think we'll surprise a lot of people.
Q) Al Unser Jr. said you're wise beyond your years, you're very mature and show that in your approach to the sport. How do you feel when a guy like Al Unser Jr. talks that way about you?
A) It's huge to have a guy like Al onboard and to help these young guys. Al's one of the most accomplished American drivers in the history of any motorsport, so to have him onboard and to have him be such a big part of this team, it's certainly a big piece of the puzzle moving forward and he'll be a great mentor to the two young guys.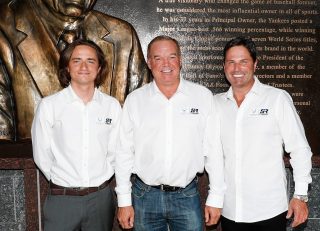 Q) Al Jr. will also be a mentor to you, won't he?
A) Well, of course. I'll be looking for all the mentors I can get. I've been lucky so far to have mentors like Bryan Herta and Michael Andretti and now Mike Harding, Brian Barnhart and Al Unser Jr. There's a lot of people that I have the fortune of looking towards advice and mentorship.
Q) Does your age make a difference or not in the way people perceive you, or is it an asset to be as young as you are because you meld in so well with young guys like Pato, Colton, Josef Newgarden and others. Does your age play to your advantage?
A) I think it can. When you're as young as I am, you always strive to prove yourself and to gain the respect of the people who have been there forever and have had their successes. It's something I'll continue to strive to, to prove that I can be here and that we can win races. And it's a good thing to be so close in age to Pato and Colton and other drivers, and a lot of the fans, thankfully, that we have in IndyCar. We have such a broad fan base. To help bring the young blood into the series, you can show you can be of any age and work and be successful in racing, you don't just have to be a driver. Everyone in racing is young at heart, I believe, and that helps as well. It's fun and it's a family atmosphere, so I don't think it really matters how old you are to be taken under the wing of the sport. It's one of the better sports, I think, to be young and to be involved in.
Q) How hands-on do you plan on being in the organization?
A) I'm already living in Indy. I moved to Indy originally to work in the Rallycross program and then when we started the Indy Lights program, I decided to stick around. Yeah, I'm already in the office and everything.
Q) So instead of a Yankee, you're a Hoosier now, huh?
A) I think I may be approaching levels of Hoosier. I've been here in Indy for 2 ½ years now.
To be honest, winning the Indy 500 would be everything.
Q) Your role with the team, I assume it will primarily be on the business side of things?
A) A lot of it is in the business side, on the sponsorship-attaining side. That's what most of my work is and now being integrated into running Steinbrenner and now that we're beginning the two-car program, a little bit more of the race management and on-track stuff, I'm starting to learn more about in terms of the specifics. The real nitty gritty stuff. Beforehand, it was all business development, trying to get sponsorship and to try to fund the program. That's still going to be the majority of what I do, but now that we've partnered with Harding Racing and started Harding Steinbrenner, I'll start to have more of an encompassing role as Mike Harding and Brian Barnhart does. They've started to take me under their wing and try to teach me everything they can teach me.
Q) So, how are you as a mechanic? Can you change your own oil (said with a laugh)?
A) I could figure that out (he replied with a laugh). I can change a tire, I know the basics. But I've never been very good with a wrench.
Q) With your partnering with Harding on the IndyCar side, what is the status of the Indy Lights program going forward? Will you continue to partner with Andretti or what?
A) We're not sure at the moment. We want to keep that possibility open. It has to make sense for us, just like the jump to IndyCar had to make sense for us. You see a lot of teams, when they make the leap to IndyCar, they either suspend their Indy Lights programs or stop them altogether. We're looking toward something in the Road To Indy moving forward, that's definitely a goal of ours, because I think the Road to Indy is a vital part of American open-wheel racing and to do what I can to stay involved is a goal moving forward.
Q) Who is your modern day favorite driver?
A) Well, my favorite drivers right now are Colton Herta and Pato O'Ward, if I'm being very honest. Growing up, when I started watching again, I was an Helio (Castroneves) guy, I enjoyed watching Helio. And then later on, Scott (Dixon) became a favorite of mine. Of course, there's bias there, because my uncle, Chris Simmons, is his head engineer. But Scott's a great guy and driver. I have a lot of favorites. I love the sport so much, I was never upset at someone crossing the start-finish and taking the checkered flag in first. There's not a lot of guys out there that I root against because I love the sport so much and I like seeing different guys have success.
Q) What would it mean to you in 2019 if your team winds up winning the Indy 500?
A) To be honest, winning the Indy 500 would be everything. I don't know how I'd be able to describe it, if we went out there and won our very first 500. Even if we got it on the 50th try, I'd still be as speechless. It's the ultimate goal for anyone who is in this sport. I mean, winning the Freedom 100 (Indy Lights' top race of the year, just one day before the Indy 500 at Indianapolis Motor Speedway) was spectacular, so I can only imagine after 400 more miles, how amazing that would be.