Editor's note: MotorSportsTalk continues to review how each organization in the IndyCar Series performed in 2018 and also takes a look ahead to 2019.
Thus far we have featured Juncos Racing, Meyer Shank Racing, Carlin Racing, Harding Racing, AJ Foyt Racing, Dale Coyne Racing with Vasser Sullivan, Dale Coyne Racing, Ed Carpenter Racing and Rahal Letterman Lanigan Racing and Schmidt Peterson Motorsports.
Today we feature Team Penske (two more reviews remain after today: Andretti Autosport on Sunday and Chip Ganassi Racing on Monday).
TEAM PENSKE 2018 season review: Team Penske's two-year run as the champs of IndyCar came to an end in 2018. Even though all of its three drivers fell short of earning another championship, Team Penske still had a strong season, capped off by Will Power's win in the 102nd Running of the Indianapolis 500, Team Penske's 17th win in the Greatest Spectacle in Racing. Team Penske also surpassed 200 lifetime Indy car wins during the season.
Team Penske's three drivers all finished in the top-6 in the overall season standings: Power finished third, 2017 IndyCar champ Josef Newgarden finished fifth, and 2016 IndyCar champ Simon Pagenaud finished sixth. Had it not been for a few bad races here or there for each of the three drivers, the championship battle – and their overall season finishes – could have been much tighter and closer.
************************
WILL POWER
Team name: No. 12 Verizon Chevrolet
Years in IndyCar: 13 (11 in IndyCar, two in CART/Champ Car)
Career wins and podium finishes: 35 (33 in IndyCar, 2 in CART/Champ Car) and 70 (64 in IndyCar and 6 in CART/Champ Car)
Best career finish: champion of 2014 season
2018 final standing: Third
2018 final stats: 3 wins, 8 podiums, 4 poles
2018 best race finish: 1st (Indianapolis Grand Prix, Indianapolis 500, Gateway)
SEASON WRAPUP: Power enjoyed his typically strong campaign. He has become one of the most consistent drivers in IndyCar annals: since 2010, Power has finished first (2014), second 4 times (2010, 2011, 2012 and 2016), third twice (2015 and 2018), fourth (2013) and fifth (2017). Of course, the highlight was winning the Indy 500 after 11 prior tries. The championship pretty much slipped away from Power in the early part of the second half of the season, when he finished 18th at Texas (crash) and Toronto and 23rd at Road America (engine). Add in a disappointing 21st place finish at Portland, and Power ultimately was just too far behind to catch points leaders Scott Dixon and Alexander Rossi.
LOOKING AHEAD TO 2019: While winning the Indy 500 was the biggest victory of his career, Power was disappointed that the championship slipped through his hands late in the season. Look for an even stronger season from him in 2019. Now that he's won Indy, he definitely wants to win it again – as well as a second career IndyCar championship.
QUOTE (after season-ending race at Sonoma): "It was a good year though. Roger (Penske) got his 500th win today (NASCAR driver Brad Keselowski won at Las Vegas on the same day as IndyCar's finale at Sonoma). We won the Indy 500. We won the 200th IndyCar race for Team Penske. We won the Brickyard 400. Just couldn't get the championship here. But overall, it was a good year for Team Penske."
************************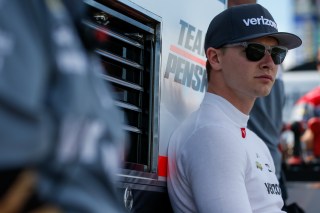 JOSEF NEWGARDEN
Team name: No. 1 Hitachi/Verizon Team Penske Chevrolet
Years in IndyCar: 7
Career wins and podium finishes: 10 and 22
Best career single season finish: 1st (2017)
2018 final standing: 5th
2018 final stats: 3 wins, 3 podiums, 3 poles
2018 best race finish: 1st (Phoenix, Alabama, Road America)
SEASON WRAPUP: It was a good year for Newgarden, but not as good as his championship-winning campaign in 2017. Sure, he earned 3 wins, but he had no other podium finishes (vs. 4 wins and 9 podiums in 2017). He did become a much better qualifier, earning four poles (vs. just two others in total over his previous six seasons).
LOOKING AHEAD TO 2019: Look for Newgarden to bounce back stronger in 2019. He admitted after this past season he was disappointed with his overall finish and he had hoped he would have finished higher and performed stronger. It's not like Newgarden had a bad overall performance. Just a few things here or there, had they gone more in his favor, and he could have finished higher. Look for him to do just that in 2019 and be a strong contender for his second championship in three seasons.
QUOTE (following season-ending race at Sonoma): "It was a great season and a lot of great moments for the whole team and myself. We just have to work to be a little stronger next year and go for the championship and the Indy 500."
************************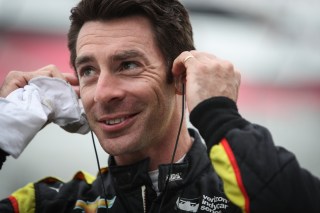 SIMON PAGENAUD
Team name: No. 22 Menards/DXC Technology/Verizon Chevrolet
Years in IndyCar: 9 (8 IndyCar, 1 Champ Car)
Career wins and podium finishes: 11 and 28 (all IndyCar)
Best career single-season finish: 1st (2016)
2018 final standing: 6th
2018 final stats: 0 wins, 2 podiums
2018 best race finish: 2nd (Texas, Toronto)
SEASON WRAPUP: It was not a typical season for Pagenaud. After winning the championship in 2016 and finishing second in 2017, he dipped to sixth in 2018. A significant contributing factor to that drop was the fact he failed to win a race and earned just two podiums. The last time he had similar numbers was 2015 (0 wins, 2 podiums), when he finished 11th. Another disappointing part of the season: after leading 406 laps in 2016 and 187 in 2017, he led just 31 laps in all of 2018, the worst single season mark of his career. The irony of this season is that Pagenaud only had three races where he failed to finish in the top-10. To finish sixth in the overall standings, it was a good season. It just wasn't a good enough season by Pagenaud's normal standards and performances.
LOOKING AHEAD TO 2019: Pagenaud, who doesn't turn 35 until May 18, is still in his prime as a driver. 2018 was not the kind of season that Pagenaud likely envisioned heading into the first race at St. Petersburg. There's no need for any changes on the team, just hope for – and work for – better performance and luck going forward into 2019.