In 59 racing seasons since 1960, nearly half of the championships in major American open-wheel racing – 24 to be exact – have been won by members of a select fraternity of just five drivers.
That includes titles in USAC, CART, the Champ Car World Series, the Indy Racing League and IndyCar.
Of that quintet of drivers, A.J. Foyt earned the most titles, seven: 1960, 1961, 1963, 1964, 1967, 1975 and 1979. He also won 67 races from 1960 through 1981, all in USAC competition.
Three weeks ago, Scott Dixon became only the second driver ever to win at least five championships, a span that includes 2003, 2008, 2013, 2015 and 2018. He also has earned 44 wins (43 in IndyCar and 1 in CART) from 2001 to date.
When Dixon won title No. 5, he moved past the other three drivers that earned four championships in their careers:
* Mario Andretti: 1965, 1966, 1969 (all USAC) and 1984 (CART). Andretti also earned 52 wins from 1965 through 1993 (33 in USAC and 19 in CART).
* Sebastien Bourdais: 2003 through 2006 (all CART/Champ Car), and 37 wins (31 in CART/Champ Car and 6 in IndyCar) from 2003 through 2018.
* Dario Franchitti: 2007, 2008, 2010 and 2011 (all in the IRL/IndyCar), and 31 wins (21 in IndyCar and 10 in CART) from 1998 through 2012.
At 38 years old, Dixon can easily win another one, two or maybe even three more championships before he calls it a career, perhaps in his mid-40s.
He's still in excellent physical shape, still has tremendous cat-like reflexes and hasn't lost any of his passion for racing.
After he won No. 5, two questions quickly emerged in the IndyCar community among fans, media and opposing team members:
Will Dixon pass Foyt for total championships? Or at the very least, tie A.J.'s seven titles?
Keep this in mind, as well: three of Dixon's five championships have come in the last six seasons. If he can sustain that pace, he could wrap up title No. 7 by the time he's 42 years old – or 2022.
Foyt has long been acknowledged as the greatest Indy car driver ever. But it's also safe to say that Foyt raced at a time where there was nowhere near the parity in the sport from both a talent and equipment standpoint as we see today.
Face it, Foyt had arguably the best equipment and best team personnel for over 20 years of his career.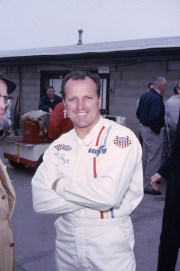 It was a similar instance for Mario Andretti and his four titles over 19 seasons.
Bourdais won his four championships at a time when CART and the IRL were disparate not only in ideology but also in competitiveness, equipment and parity.
It wasn't until Franchitti won his four IndyCar crowns over a five-year period – he sat out the 2008 season to race in NASCAR, only to have his season end not even halfway through when sponsorship evaporated – that IndyCar racing began to really see perhaps the greatest parity among most, if not all teams, that it has ever seen.
And that trend has not only continued, things have gotten closer and tighter more than ever, especially in the just-completed 2018 season after the advent of the new IndyCar chassis, arguably one of the best styles the sport has ever seen.
That's what makes Dixon's achievement of five titles – and again, three of those coming in the last six seasons – all the more significant and noteworthy.
Some might even say that Dixon, during a period of the closest competition and tightest racing any American open-wheel series has ever seen, could one day supplant Foyt as being considered the greatest driver ever in Indy car racing history.
If he hasn't already – with all due respect to Anthony Joseph Foyt.
Think of it: Dixon has won five titles in 16 seasons, while Foyt won his seven titles in 20 seasons, but with far less stiffer competition than Dixon has faced in his career.
Also, keep in mind that while Foyt has 23 more wins than Dixon in their respective Indy car careers, again, Dixon has had a much more difficult road to hoe with cars and drivers never more closer together in terms of speed and elapsed time.
Oh yes, also keep one other thing in mind: Dixon won his 44 races from the ages of 20 to 38, while Foyt earned his first win at 25 years old and his last at 44.
What's more, Dixon has won his 44 races in just 304 career open-wheel starts, while Foyt earned his 67 victories in 382 career starts.
It took Andretti 28 seasons to win his 52 races, although to be fair, he won 51 in his first 23 seasons and his 44th and last triumph in his 28th season in U.S. open-wheel competition, when he was 53 years old. Also of note, Andretti made 421 career starts between USAC and CART.
About the only other driver other than Dixon that potentially could have gone on to challenge Foyt and Andretti was Franchitti, whose career abruptly ended at the age of 40 after suffering a serious crash in the second-to-last race of the 2013 season at Houston.
If I may be so bold, I have always felt Dixon was considered underrated as a driver – and as a champion. Sure, he won his fourth crown in 2015, but there was nary a word in the media about him ever moving into rare air in terms of championships and wins to challenge both Foyt and Andretti, until this season.
With the way Dixon won his fifth championship this season, he personified more than ever his nickname of "The Iceman" in my opinion. He was so cool, calm and collected as he held off late-season challenges and rallies by Alexander Rossi, Will Power and 2017 IndyCar champ Josef Newgarden.
You never saw a wrinkle of worry on Dixon's face in the last 3-4 races. He just had a quiet yet confident demeanor that while he knew anything could still happen until the checkered flag at Sonoma, nothing was going to happen if he had anything to say – or do – about it.
It's almost as if his internal mantra was "I've got this."
Has Dixon dethroned Foyt as the greatest driver in Indy car history, considering the circumstances, timing and at the different points of their respective careers when they made their most significant achievements?
Maybe not just yet, but if the New Zealand wonder wins a sixth title next season or in the next few seasons afterward, there'd be no doubt in my mind at that point.
Sure, Dixon and Foyt raced in different times in the sport. And both are to be commended for the careers they've had.
But could it honestly be said Foyt would have been as great and equally as successful racing today – particularly against Dixon – as Foyt was back in the old days?
I'm not so sure about that.
But there's no doubt Dixon is the best of his generation, the best of the last two decades of open-wheel racing and potentially one day will indeed be considered the best of the best.
(Take the attached poll and let us know your thoughts.)