Tony Stewart on Wednesday may have taken one step closer to making a return to racing in the Indianapolis 500.
Or not.
Stewart was at Texas Motor Speedway as part of his annual "Smoke Show" fantasy driving camp.
As usual, Stewart took time out to speak with local Dallas/Fort Worth media. One of the questions posed to him was whether he would still one day return to race in the Indy 500.
Stewart said he likely would run an IndyCar race at Pocono Raceway the year before he'd even attempt the Indy 500, so that he could get up to speed in the open-wheel cars on a high-speed oval.
"Pocono is what we talked about doing if we're going to do this," Stewart said. "We are going to at least run the Pocono race. That way when May came around, I'd at least be up to speed not trying to learn a whole race car again and a whole new system all over.
"I don't want to do like Danica Patrick. I don't want to be a side show with the 500. I mean I would want to do it because I want to feel like I legitimately have a shot when I show up on the first day. I want to feel like I have a shot to win the race.
"Those guys are so competitive in that series right now. You're not just going to show up like you could 20 years ago, jump in a car and go out there and be up to speed with those guys. I mean they're on top of their game so if it happens, I mean we would definitely run at least run one oval race before the 500.
"Pocono is what we had kind of figured was the best scenario because that's kind of the same package that you run at (IMS) so if we were going to do it, you'd probably see us run Pocono the year before."
Do the math and that means Stewart MAY potentially race next year at Pocono and then MAY race at Indy in 2020 – at the very earliest.
Again, there's nothing definite or confirmed. Don't go buying your tickets just yet.
But IF Stewart were to run at Indy in 2020, he'd be 49 years old and it would be 19 years since his last appearance in the 500.
Stewart isn't short of potential suitors that would be interested in fielding a car for him in the Indy 500.
"I actually talked to somebody from Rahal Letterman (Lanigan Racing) yesterday so I don't know," he said. "We're talking about it and it's not necessarily who we'd be doing it with. I mean we've talked to Andretti; we've talked to obviously Penske. I still got an open offer with him which is pretty cool and I think Chip (Ganassi) would want me to come back and do it again with him if we had the opportunity."
Stewart has made five career appearances in the Indy 500, the last time being 2001. His record in his first three attempts in the Greatest Spectacle In Racing: 24th in 1996 (started on the pole), 5th in 1997 (started on the middle of the first row) and 33rd in 1998.
In both 1999 and 2001, Stewart took part in the "double," racing both at Indianapolis in the afternoon and flying to Charlotte to race in the NASCAR Cup event the same evening.
In 1999, he finished 9th at Indy and was 4th at Charlotte, while in 2001 he finished 6th at Indy in 2001 and was 3rd at Charlotte. He is the only driver to ever complete both ends of "the double."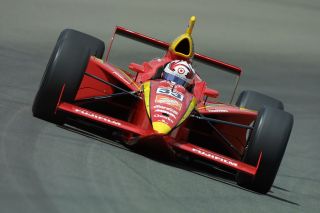 Stewart has made 18 starts at Indianapolis Motor Speedway in NASCAR's Brickyard 400, with wins in 2005 and 2007, seven top-5 and 11 top-10 finishes.
As for racing at Pocono, Stewart – who retired from NASCAR Cup racing after the 2016 season – made 36 career NASCAR Cup starts at the 2.5-mile "tricky triangle," with two wins, 13 top-5 and 24 top-10 finishes.
However, Stewart has never raced an IndyCar at Pocono in his career.
**************************
OLDEST DRIVERS IN INDY 500 HISTORY
In case you're wondering, Stewart would not be the oldest driver to ever compete in the Indy 500. His hero, four-time Indy 500 winner A.J. Foyt, made his last appearance at Indy in 1992 at the age of 57.
Gordon Johncock (1992) and Mario Andretti (1994) both were 54 in their last go-round at Indy. Another four-time Indy 500 winner, Al Unser, was one day short of his 54th birthday when he competed in the 1993 500.
Lynn St. James was also 53 when she raced in the 2000 500. Johnny Parsons was 52 in 1996, Gary Bettenhausen was 51 in 1993, while Lloyd Ruby (1977), Johnny Rutherford (1987) and Buddy Lazier (2017) were 49 in their final Indy 500s.