IMSA Wire Service
BRASELTON, Ga. – Here's a wrapup of what happened Thursday at Road Atlanta as part of the Motul Petit Le Mans weekend:
Braun Fastest Early Thursday In Practice at Motul Petit Le Mans
Hunting for their first IMSA WeatherTech SportsCar Championship Prototype class title, the No. 54 CORE autosport team's efforts got off to a hot start on Thursday at Road Atlanta.
Colin Braun, who is co-driving in Saturday's 10-hour Motul Petit Le Mans with team owner Jon Bennett and endurance driver Romain Dumas, posted the fastest lap overall across the two afternoon practice sessions with a time of one minute, 11.669 seconds (127.586 mph).
The No. 54 ORECA LMP2 is chasing the No. 31 Whelen Engineering Cadillac DPi-V.R. of Eric Curran and Felipe Nasr – co-driving with Gabby Chaves this weekend – in the standings, four points down.
"We're just doing our normal thing," said Braun. "CORE autosport is just focused on running through our list of test items for the race and getting Romain some seat time. Obviously, he's quick and right up to speed so he doesn't need too much. But just working through our list of stuff to do.
"I'm happy to be quick, obviously that's always a good thing. I think the (No.) 31 was second quick in the (first) practice, so obviously they have good pace as well. It's good, just keep our heads down and do our thing. I've been saying all week, it's not going to come down to the ultimate pace, it's going to come down to surviving 10 hours and being smart, having a good car in traffic and things like that, so that's what we're focused on."
Atop the GT Le Mans (GTLM) championship standings and the Thursday afternoon leaderboard was the No. 3 Corvette Racing Chevrolet Corvette C7.R of Jan Magnussen, Antonio Garcia and Marcel Fassler. Magnussen, who set the quickest time of 1:18.300 (116.781 mph), and full-time co-driver Garcia currently lead their class standings by nine points, although they will be seeking their first win of the season on Saturday.
Hot on their trails is the No. 67 Ford Chip Ganassi Racing Ford GT of Ryan Briscoe and Richard Westbrook. The duo – who are joined by 2018 IndyCar Series champion Scott Dixon this weekend – sit second in the standings and were second after two practice sessions on Thursday.
In the GT Daytona (GTD) class, the fastest lap belonged to the Tequila Patrón North American Endurance Cup leaders Ben Keating, Jeroen Bleekemolen and Luca Stolz in the No. 33 Mercedes-AMG GT3 for Riley Motorsports.
During the second practice of the day, championship contenders Katherine Legge in the No. 86 Meyer Shank Racing Acura NSX GT3 and the duo of Bryan Sellers and Madison Snow in the No. 48 Paul Miller Racing Lamborghini Huracán GT3 were neck-in-neck, finishing fourth and fifth on the charts, respectively. Legge is co-driving in the Motul Petit Le Mans with Alvaro Parente and Trent Hindman, while Corey Lewis rejoins the No. 48 team's lineup after helping secure a win at March's Mobil 1 Twelve Hours of Sebring.
A 90-minute night practice session remains for the IMSA WeatherTech SportsCar Championship on Thursday. Timing and scoring will be available on IMSA.com beginning at 7:30 p.m. ET.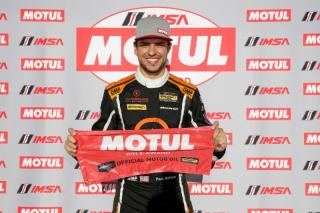 Holton Takes Motul Pole Award to Lead McLaren Front Row for Continental Tire Challenge Finale
The two McLarens in the IMSA Continental Tire SportsCar Challenge Grand Sport (GS) field will start 1-2 on Friday for the final race of the 2018 season for the second consecutive season.
Led by Motul Pole Award winner Paul Holton in the No. 76 McLaren GT4 for Compass Racing, the 39-car field will take the green flag of the two-hour Fox Factory 120 at 1:25 p.m. ET on IMSA.tv with IMSA Radio commentary.
Holton's lap of one minute, 28.326 seconds (103.525 mph) was good for his third Motul Pole Award of the year and McLaren's fourth consecutive.
"We were McLaren P1-P2 last year and now we're McLaren P1-P2 this year," said Holton. "The track is really good for us with the long straightaways, some high-speed corners, that's what our car tends to like. It's kind of the perfect storm for this car around here to be honest."
Corey Fergus piloted the No. 69 Motorsports In Action McLaren GT4 to second on the charts, less than two-tenths behind Holton. It's a hot streak in qualifying for the team, as the race prior at WeatherTech Raceway Laguna Seca, Fergus' co-driver Jesse Lazare earned the pole position.
Taking his fifth straight Motul Pole Award in the TCR class was Tom O'Gorman in the No. 12 eEuroparts.com Racing Audi RS3 LMS with a lap of 1:29.840 (101.780 mph). Stating that Road Atlanta is his favorite track in the United States, O'Gorman is appreciative of his team's strength, especially as the car only joined the Continental Tire Challenge field midway through the season.
"That's number five in a row, we've gotten the last five of the season, so it's a thrill," said O'Gorman, who co-drives with Kenton Koch. "This team, they're performing at the top and it's an honor to perform at the top of my game too to make sure they get these pole positions set us up for good races."
It was a tough qualifying session for TCR championship contender Kuno Wittmer and Rodrigo Sales in the No. 74 Compass Racing Audi. Five points down in the standings to teammates Britt Casey, Jr. and Tom Long – who will start second on Friday in the No. 77 – the No. 74 was unable to complete a lap after the car stalled on track. The team will start at the back of the nine-car field.
The final Motul Pole Award in the Street Tuner (ST) class belonged to Nick Galante in the No. 81 BimmerWorld Racing BMW 328i. It's Galante's fifth consecutive pole, sixth this season, and the team's ninth in 10 races, with Galante's co-driver Devin Jones delivering the other three poles. Galante's time on Thursday was 1:37.191 (94.082 mph).
Additionally, the duo lead the ST point standings by 16 points and are looking to secure BimmerWorld Racing's first Continental Tire Challenge championship.
"I'll tell you that was the toughest one all year," said Galante. "I've usually gotten it done in the first two laps, but I was talking to the engineer on the radio and he's like 'You're P2, and four-tenths down' and I was like 'I've got to dig deeper' and I was already digging deep. Out here, there's a couple turns that tighten your belts up and I dug deep and hung it out there. I didn't want to risk the car, but I did it anyway and it turned out great. We're looking pretty good here to start the race."
Vautier 'Grateful' For Opportunity With Action Express Racing
Action Express Racing will have a new face in its No. 5 Mustang Sampling Cadillac DPi-V.R. entry this weekend at Motul Petit Le Mans. Tristan Vautier is making his debut with the team, replacing Joao Barbosa who suffered a rib injury in an incident at WeatherTech Raceway Laguna Seca last month.
Barbosa will still be onsite at Road Atlanta, where he will cheer on Vautier, Christian Fittipaldi and full-time co-driver Filipe Albuquerque as the team enters the weekend six points out of the lead in the Tequila Patrón North American Endurance Cup. Despite the late driver change, Vautier's experience driving a Cadillac DPi-V.R. earlier this season with Spirit of Daytona Racing will help with the transition.
"I'm grateful to Action Express Racing and Mustang Sampling for having me in the car and to Spirit of Daytona for allowing me to do it," said Vautier. "I got the call from [team manager] Gary (Nelson) Monday morning, and he was like 'Where are you?' I was in Mooresville [North Carolina] which is luckily very close to their shop and I was able to go there and do a seat fitting. It was last minute, but the track is close to where we are located, I know the track and I know the car, so it's okay.
"It's good to be back in the Prototype. This team is a strong operation and the teammates all get along. I felt quite comfortable and quite quick. Everything moves a bit faster in the first session when you haven't been in the car for a while, but throughout the weekend it settles down."
Fischer On IMSA Prototype Challenge Presented by Mazda Pole In First Visit To Road Atlanta
It's been a whirlwind weekend for TJ Fischer in the IMSA Prototype Challenge Presented by Mazda. The driver of the No. 47 Forty7 Motorsports Norma M30, in his first visit to Road Atlanta, had the disadvantage of having to learn the highspeed circuit under wet conditions on Wednesday as remnants of Hurricane Michael swept through the area.
But if one thing has been evident in Fischer's debut season in the series, he's proved to be a quick study as he captured the pole Thursday, his second of the season, in the same dry conditions expected for Friday's one-hour, 45-minute season finale. His lap of one minute, 19.169 seconds (115.499 mph) was 0.047 seconds ahead of the LMP3 class points leader Kris Wright in the No. 30 Extreme Speed Motorsports Ligier JS P3.
"It was a lot of learning," said Fischer, who will once again co-drive with Austin McCusker. "I just kind of stuck with the program. The guys from Forty7 Motorsports have been awesome. We just worked together the whole way, looked at some data, some video, and then it was a pretty on the limit hanging it out there in Turn 5 on the curbing, but it worked out."
Fischer missed the season opener at Daytona, but has co-driven with McCusker since, with the duo winning earlier this season at Canadian Tire Motorsport Park. Points leader Wright will start on the outside of the front row and will be joined this weekend by veteran Nic Jonsson as Wright enters the final event of the season with a 23-point lead over McCusker. Rodrigo Pflucker rounded out the top three in the No. 74 Alianza Motorsports Norma M30 run in partnership with Forty7 Motorsports he will co-drive Friday with Anthony Simone.
In the MPC class, Michal Chlumecky scored the pole with a lap of 1:23.041 (110.113 mph) in the No. 31 Eurosport Racing Elan DP02. It was a back and forth battle between Chlumecky and the No. 11 Performance Tech Motorsports entry of Dr. Robert Masson, who will again co-drive this weekend with son Kyle Masson. Both Chlumecky and the elder Masson spent time at the top of the leaderboard, but it was Chlumecky who was able to claim the top spot by 0.314 seconds.
"Getting out in the dry today makes it so much sweeter," said Chlumecky. "The opportunity to go out and show the team what they've done for the car, and they've put a wonderful car together, is great. I just kept practicing and was able to knock a little off every lap because we didn't get to practice in the dry."
In the final race for the MPC class, the championship may come down to the final laps of Friday's race. Coming into this weekend's race, the No. 86 Mazda-powered Elan DP02 driven by Dave House leads seven cars within nine points of the championship lead, with four of those cars within five points.
Fans will be able to see if House and the One Motorsports team can hang on to the IMSA Prototype Challenge Presented by Mazda championship on Friday, Oct. 12 at 8 a.m. ET. The race can be streamed live on IMSA.tv
Magnussen Shakes Down GTR-1 In Preparation For Tribute To Late Dr. Don Panoz
Panoz, LLC returns to Motul Petit Le Mans at Road Atlanta this weekend, not to race, but to pay tribute to the late Dr. Don Panoz. The recently restored Panoz GTR-1, chassis No. 7 that raced at Le Mans in 1998 will run a pre-race lap alongside the "Stars and Stripes" DeltaWing Coupe DWC13-003 Saturday but turned some extra laps Thursday in preparation.
Corvette Racing driver Jan Magnussen shook down the GTR-1. He began his sports car career with Panoz Motorsports in 1999, and the GTR-1 coupe was the first sports car he hopped into after a lengthy open-wheel career. He drove it in the first two races of the 1999 American Le Mans Series before the team switched to the open-cockpit Panoz LMP-1 Roadster S.
"That was so much fun," said Magnussen. "It was great to get back in the GTR-1. It was the first sports car I ever drove… 20 years ago! It really makes me feel young! But it was a fun shakedown and had some with it. It's great honor to get to do this for Don. I hope everyone who was listening and watching was reminded how fantastic those monster cars were. It's fantastic… just a monster just like it was back then!"
Action-Packed Friday To Be Streamed Live On IMSA.tv
Need an appetizer for Saturday's Motul Petit Le Mans at Road Atlanta? Look no further than IMSA.tv's Friday coverage.
IMSA.tv will bring both domestic and international sports car racing fans live streaming Friday of Motul Pole Award qualifying for the WeatherTech Championship at 3:55 p.m. ET, as well as championship-deciding races for the IMSA Prototype Challenge Presented by Mazda (8 a.m. ET), Porsche GT3 Cup Challenge USA by Yokohama (10:10 a.m. ET), and IMSA Continental Tire SportsCar Challenge (1:25 p.m. ET).
Live television coverage of Motul Petit Le Mans begins Saturday, Oct. 13 at 10:30 a.m. ET on FS1, with continuing coverage on FS2 from 12 p.m. ET through the checkered flag. Live IMSA Radio coverage also will be available on IMSA.com, RadioLeMans.com and SiriusXM Radio (Sirius 119/XM 202/App 972).