Formula One's Red Bull Racing team has completed its "Road Trip USA," a 4,179-mile journey from San Francisco to Miami Beach.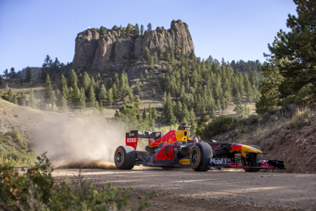 Max Verstappen anchored the two-driver, cross-country saga, starting at Colorado's Independence Pass and the Continental Divide and ending up in Miami Beach's famous sand.
Your stomach may get a little queasy at how close Verstappen came to the edge of cliffs in Colorado, or how he powered through some blind tunnels at some rather fast speeds, not knowing what was on the other side.
After having a brief drag race of sorts with a semi, Verstappen took advantage of Miami Beach. He even raced a Miami Vice-era cigarette boat and won.
"Ha ha, he wasn't as fast as he looked," Verstappen quipped at the slow boat.
Check out Part 2 of the Road Trip below.
And don't forget how Verstappen's teammate, Daniel Ricciardo, did the first stint from the Bay Area to Las Vegas. Check out the video below.
The Road Trip was part of a Red Bull promotion touting the expected F1 race in Miami Beach in 2020, to go along with the already existing late-season F1 race at Circuit of the Americas in Austin, Texas.