Mercedes' Lewis Hamilton's bid to clinch a fifth Formula One championship in Sunday's U.S. Grand Prix came up short, as Ferrari's Kimi Raikkonen won his first F1 race since 2013.
As a result, Hamilton's closest challenger for the championship, Sebastian Vettel, saw his F1 title hopes remain alive for at least another race. Three races remain on the schedule now; next up is this coming weekend's Mexican Grand Prix.
Pole-sitter Hamilton finished third, while Vettel finished fourth. Hamilton had won the last four U.S. Grand Prix's and five of the last six at Circuit of the Americas coming into Sunday's race.
It was an exceptional ride for Vettel, who recovered from first-lap contact with Daniel Ricciardo that spun Vettel around, leading him to roar back through the field after falling back to 15th place following the contact.
Raikkonen's win at COTA in Austin, Texas, snapped a 112-race winless streak that dated back to the 2013 Australian Grand Prix (March 17, 2013), the longest drought between wins in F1 history. Riccardo Patrese previously held the record of 99 races between wins from 1983 to 1990.
"(Expletive) finally!" an exuberant Raikkonen said over his team radio after crossing the finish line for the first time in 2,044 days.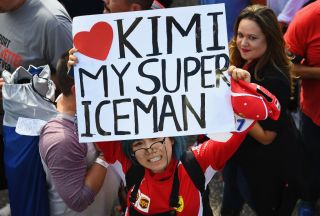 The Finnish driver earned his 21st career F1 triumph. At 39, he becomes the oldest F1 race winner since Nigel Mansell did so in 1994, also at the age of 39.
And in a nice bit of irony, Raikkonen's win came exactly 11 years to the day that he won the F1 championship.
"I had to push hard, it was a battle," Raikkonen said of Sunday's race. "I had enough speed. We had to keep it consistent. Obviously, I'm happier than if I had finished second."
Red Bull Racing's Max Verstappen also had a great run, starting 18th before finishing second.
Hamilton was forced to make a late pit stop, one more than his chief challengers, which likely cost him a shot at the title.
Even so, Hamilton still slightly increased his lead over Vettel from 67 to 70 points heading to Mexico City. Vettel must win each of the three remaining races to even stand a chance at overtaking Hamilton for the title.
However, even if Vettel wins at Mexico City, if Hamilton can finish seventh or better in the race, he will likely clinch the crown.
If Hamilton wins the championship, he'll be only the third driver in F1 history to win five titles, tying him for second on the all-time championship wins list with Juan Manuel Fangio. Michael Schumacher owns the overall championship wins record with seven titles.
"We just have to keep working and pushing in the next race," Hamilton said. "I'm still happy we got a top 3. It's still close. Ferrari picked up their game this weekend so we're going to push hard in the next race."
Valtteri Bottas finished fifth, while sixth through 10th were Nico Hulkenberg, Carlos Sainz, Esteban Ocon, Kevin Magnussen and Sergio Perez.
FINAL RESULTS:
| | | | | | | |
| --- | --- | --- | --- | --- | --- | --- |
| POS | NO | DRIVER | CAR | LAPS | TIME/RETIRED | PTS |
| 1 | 7 | Kimi Räikkönen | FERRARI | 56 | 1:34:18.643 | 25 |
| 2 | 33 | Max Verstappen | RED BULL RACING TAG HEUER | 56 | +1.281s | 18 |
| 3 | 44 | Lewis Hamilton | MERCEDES | 56 | +2.342s | 15 |
| 4 | 5 | Sebastian Vettel | FERRARI | 56 | +18.222s | 12 |
| 5 | 77 | Valtteri Bottas | MERCEDES | 56 | +24.744s | 10 |
| 6 | 27 | Nico Hulkenberg | RENAULT | 56 | +87.210s | 8 |
| 7 | 55 | Carlos Sainz | RENAULT | 56 | +94.994s | 6 |
| 8 | 31 | Esteban Ocon | FORCE INDIA MERCEDES | 56 | +99.288s | 4 |
| 9 | 20 | Kevin Magnussen | HAAS FERRARI | 56 | +100.657s | 2 |
| 10 | 11 | Sergio Perez | FORCE INDIA MERCEDES | 56 | +101.080s | 1 |
| 11 | 28 | Brendon Hartley | SCUDERIA TORO ROSSO HONDA | 55 | +1 lap | 0 |
| 12 | 9 | Marcus Ericsson | SAUBER FERRARI | 55 | +1 lap | 0 |
| 13 | 2 | Stoffel Vandoorne | MCLAREN RENAULT | 55 | +1 lap | 0 |
| 14 | 10 | Pierre Gasly | SCUDERIA TORO ROSSO HONDA | 55 | +1 lap | 0 |
| 15 | 35 | Sergey Sirotkin | WILLIAMS MERCEDES | 55 | +1 lap | 0 |
| 16 | 18 | Lance Stroll | WILLIAMS MERCEDES | 54 | +2 laps | 0 |
| NC | 16 | Charles Leclerc | SAUBER FERRARI | 31 | DNF | 0 |
| NC | 3 | Daniel Ricciardo | RED BULL RACING TAG HEUER | 8 | DNF | 0 |
| NC | 8 | Romain Grosjean | HAAS FERRARI | 2 | DNF | 0 |
| NC | 14 | Fernando Alonso | MCLAREN RENAULT | 1 | DNF | 0 |