Bryan Sellers will remain within the familiar confines of his Paul Miller Lamborghini Huracan GT3, but will also spread his wings in a new series in 2019.
At the age of 36, Sellers has 25 years of competitive racing behind him and is adding to his racing plate the battery-powered Jaguar I-PACE sedan that he will drive for Rahal Letterman Lanigan Racing – something he describes as "the way of the future."
Racing for Ohio native Bobby Rahal, it is a connection that brings him home to his roots. Sellers was born in Centerville, Ohio. 
"I'm very proud to be a part of Rahal Letterman Lanigan Racing," Sellers said in a press release. "I grew up in Ohio watching Bobby (Rahal) win races and build an incredible racing program and it will be nice to finally get to see it from the inside."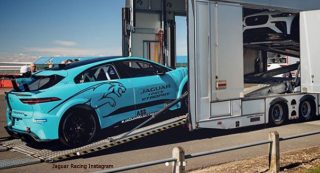 Sellers' electric-powered Jaguar won't have the same horsepower as the V10 Lamborghini that he steered to victory in the 2018 IMSA Weather Tech Sports Car championship with co-driver Madison Snow.
At his heart, Sellers is a  racer chasing a championship and it's not the horsepower but the potential for close competition that drives him. Next year, he has an opportunity to win the first ever Jaguar I-PACE eTROPHY Championship.
In 2016, Jaguar joined the Formula E series. Now they are looking to make history with the world's first all-electric production-based international race series that will compete at 10 venues next year in support of the ABB FIA Formula E Championship.
The series' 10 venues will be international, racing on tracks in Saudi Arabia, Morocco, China, Italy, Mexico, France, Monaco, Germany and the USA, which will showcase electric cars on the streets of Brooklyn, New York, in July.
"Electric cars are clearly the way of the future and to be involved with the first electric production car racing series is very important to me," Sellers said. "I'm very thankful to everyone at RLL and Jaguar for giving me this opportunity."
Sellers raced fulltime in the American LeMans Series from 2005 through 2013 – amassing four victories and two other podium finishes. In 30 career races in the Grand-Am Series, he added three more visits to the podium.
But it was last year that was clearly the highlight for Sellers. For the second time in his career, he scored multiple wins in a series (Sellers had two wins in ALMS in 2011), but he stood on the podium eight times in addition to winning the championship.
Joining Sellers in the I-PACE eTROPHY Championship Jaguar next year will be Katherine Legge, who he raced against in 2018 for the IMSA GTD championship.
"Experience, maturity and pace are very important qualities that I was looking for when we chose our driver lineup," said Rahal, the former IndyCar Champion and Indy 500 winner.
The series will kickoff with the Formula E season-opener in Riyadh on December 15, 2018. They will not run in conjunction with the next two Formula E rounds and will rejoin for most of the remainder of the 2019 season.