After just over a year, retired Formula One driver Jenson Button has decided to put Los Angeles in his rearview mirror.
And the former F1 champ hopes to make a nice profit in the process. (Click on the story link nelow and check out the full photo gallery of Button's home.)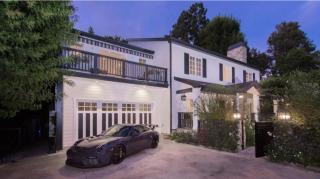 According to a Los Angeles Times story, Button has placed his Brentwood neighborhood home on sale for $6.85 million. If he gets the asking price, it will be a about a $750,000 profit over the $6.1 million he paid for the two-story Cape Cod abode last year.
Button obviously had good taste when he first bought the house. Here's how The Times described what will soon be Button's former home:
"(It) offers 4,800 square feet of living space filled with an elegant mixture of hardwood floors, paneled walls, crown molding and modern lighting fixtures."
The house has five bedrooms and five and a half bathrooms.
Outside, the backyard has a relaxation patio that The Times said includes "a fire pit, a wet bar and a swimming pool with a spa fill out the backyard space."
There's no word where Button, 38, will be moving to, whether he'll stay in the U.S. or move back home to his native Great Britain.
One potential possibility could be relocating to Japan. Button is currently competing in the Japanese Super GT Series, which wraps up Nov. 10-11 at Motegi.
Piloting a Honda NSX-GT, Button and teammate Naoki Yamamoto are tied for first place in the GT500 series, with one podium and two other top 10 finishes despite missing one of the first seven races.
One other name of note currently racing in the series is Felix Rosenqvist, who will drive for Chip Ganassi Racing in IndyCar in 2019, teaming with defending series champ Scott Dixon.
Button spent 18 years in F1, winning 15 races and the 2009 championship.