IndyCar driver Robert Wickens has announced on his Instagram account that he's paralyzed from the waist down.
Wickens said in his post:
"Did my first slide transfer as a paraplegic today. My upper body is getting stronger and stronger and hopefully I'll be able to do it unassisted soon. I've only been posting videos of the small movement in my legs, but the reality is I am far away from walking on my own. Some people are a bit confused with the severity of my injury, so I wanted let you know the reality of it. I've never worked harder for anything in my life, and I am giving it all I've got to spark those nerves in my legs."
The 29-year-old Wickens suffered major critical injuries after being involved in a horrific crash August 19 in the early laps of the IndyCar race at Pocono Raceway. His car flew up into the catchfence, spun several times in mid-air and landed hard against the inside retaining wall.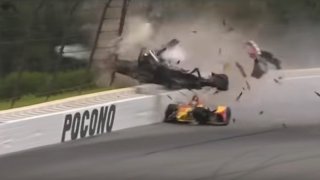 The Canadian driver was airlifted to a hospital in nearby Allentown, Pennsylvania, where he was treated for nearly two weeks before being transferred to an Indianapolis hospital for further surgery and treatment.
MORE: Racing world takes to social media in support of Robert Wickens
Wickens was diagnosed with the following injuries: thoracic spinal facture, spinal cord injury, neck fracture, tibia and fibula fractures to both legs, fractures in both hands, fractured right forearm, fractured elbow, four fractured ribs and a pulmonary contusion.
Following several surgeries, WIckens has been in a Indianapolis long-term care rehab facility, trying to overcome his injuries. An Associated Press report on Friday said Wickens has recently been moved to a treatment/rehab facility in Colorado.
While Wickens has previously posted at least one video on social media of exercising his legs, the video attached to his most recent Instagram/Twitter posts show the limitation of his mobility.
What does being a paraplegic mean? Here's how SpinalCord.com defines it:
"Paraplegia, sometimes called partial paralysis, is a form of paralysis in which function is substantially impeded from the waist down. Most people with paraplegia have perfectly healthy legs. Instead, the problem resides in either the brain or the spinal cord, which cannot send or receive signals to the lower body due to an injury or disease.
"Like other forms of paralysis, paraplegia substantially varies from one person to another. While the stereotype of a paraplegic is of someone in a wheelchair who cannot move his or her arms or legs, cannot feel anything below the waist, and cannot walk, paraplegics actually have a range of capabilities that may change over time, both as their health evolves and their physical therapy helps them learn to work around their injuries."
Click here for more information about paraplegia from SpinalCord.com.
Here are some previous NBCSports.com's MotorSportsTalk stories from the Robert Wickens crash timeline: