Steve Torrence won 8 of 24 races (a .333 winning percentage) last year in the NHRA Top Fuel ranks, four more than his closest rival, Brittany Force.
But due to her success in last year's six-race Countdown to the Championship playoffs, Force ultimately went on to win the championship while Torrence was relegated to second place.
That taught Torrence a very valuable lesson, one that still leaves a sour taste in his mouth to this day whenever he talks about it.
That's why in 2018, Torrence has upped his game. He enters this weekend's NHRA Toyota Nationals at The Strip at Las Vegas Motor Speedway – the second-to-last race of the season – having won 9 of the first 22 races (a .410 winning percentage), including being the first driver in NHRA Top Fuel or Funny Car history to win the first four races in the Countdown.
Now, the 35-year-old Torrence is poised to seal the deal and win the championship that evaded him last season – and with one race to boot. The Longview, Texas native currently leads the Top Fuel ranks by 169 points over closest rival, Clay Millican.
Given that 191 points will be available for the taking at the season-ending NHRA Auto Club Finals in two weeks (Nov. 8-11) in Pomona, California, if Torrence can leave Las Vegas Sunday with a 192-point lead, he'll clinch his first career Top Fuel championship and second NHRA crown of his career (he won the Top Alcohol Dragster title in 2005).
"Honestly, I thought about it a whole lot last year when we had the run we had, we won 8 races out of 24, and the next-best car won just four and then we ended up losing the championship at the final race," Torrence told NBC Sports. "I let that get in my head a little bit last year, it distracted me from what we needed to do and I think it distracted the team.
"This year, we've been able to put that out of our mind. None of that matters until Sunday afternoon at Pomona. You still have to go out and race. Yeah, there's a championship at stake, but you still have to win races.
"We're there to win rounds and races. If you quit looking at the big picture and just look at what you have to do each round, the rest of that stuff handles itself."
*****************
While he concedes "we definitely have the momentum" heading into Las Vegas, Torrence is staying true to his one round and one race at a time mantra.
"At the end of the day, you have to stay focused on what you've got to do," he said.
McMillan has proven to be a strong competitor, but he only has two wins to Torrence's nine – with the potential Torrence could reach 10 wins Sunday and potentially 11 wins at Pomona. If that were to happen, Torrence would wrap up the championship with a .458 national event winning average in 2018.
"We've had some rounds that went our way when we needed them to, but we've also been where we needed to be, had the car where it needed to be and I've risen to the occasion when I needed to," he said humbly yet firmly. "I'm not going to say we just went out and dominated, but we've had the stuff we needed to have, when we needed to have it.
"You just keep the same mentality we've had. I'm not worried about what Clay (Millican) or the next guy is doing. That's been a recipe for success for us, just focus on what we've got to do. If you can win all six (playoff races), you don't have to worry about counting points."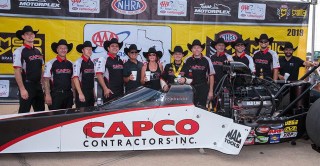 After racing for others early on in his career, he formed Torrence Motorsports at the end of 2011 and went full-time the following season. He's been a staple in the Top Fuel ranks ever since.
"Six years ago, I just wanted to win a race, one race," Torrence said. "If I could win a race, I would have accomplished my goal.
"Now, I'm 25 wins into this deal now. If I can win one championship, that'll be the icing on the cake. If we can pull it off, it's going to be unbelievable. You just set small goals, work towards them and then you can get those bigger ones accomplished."
After virtually every one of his 25 wins to date, one of the things Torrence has become known for is immediately thanking crew chief Richard Hogan and the rest of the team – Steve likes to call them his family – for its efforts.
"Some of these guys have been with me since Day One," he said. "The continuity between all these guys and how they work together, I'd put them against anybody. I think they're not paralleled out there at all."
*****************
Which dovetails into the second part of the "family" equation for Torrence. His father, Billy, is a long-time drag racer, primarily in the Sportsman ranks.
"My dad taught me how to race," Steve Torrence said. "I grew up going to the races with him and just learning to work on cars, all the stuff we do and being able to be submersed in all that. That's just what you naturally gravitate toward. Whatever your dad does, if you get to do it together and do it for fun, that's what you enjoy doing."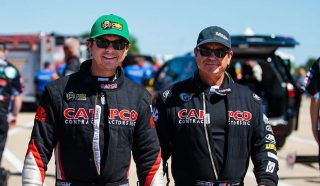 When Steve son moved into Top Fuel, it didn't take long before Billy wanted to join his son not just at the racetrack, but also ON the racetrack.
Usually, it's the other way around, where a son follows a father. But in this case, it was father following his son.
Said Steve, "When I got to Top Fuel, I told him, 'Man, you need to get in my car and make a pass. There's nothing like it.'"
Steve obviously did a good selling job, as Billy has since gone on to begin his own Top Fuel racing tenure, albeit on a part-time basis.
"It was a fun, enjoyable steep learning curve that he didn't have a whole lot of time to learn," Steve Torrence said of his father's first few Top Fuel efforts. "He didn't have the luxury that I did to get out there and really get his feet wet.
"We just trialed him by fire and said, 'Here it is, drive it!"
Father and son have faced each other twice to date in Top Fuel competition, with Steve winning both times. But Steve admits he worries about the day his father potentially lights the win light first against him.
"One of my best friends and most fierce competitors is Antron (three-time Top Fuel champ Antron Brown)," the younger Torrence said. "Racing my old man is going to be like racing Antron because I don't need to remind you I live across the street from my dad and work with him every day."
Then, Steve adds with a hearty laugh, "In the event he were to beat me, it would not be good for me. I'd have to deal with all the people that would talk crap to me – and him. I'm not going to let that happen. I'll cut his tire or drain his fuel first. I'll do whatever I've got to do."
The other part of the high-speed Torrence family business is Steve's mother, Kay, more affectionately known as "Mama Kay."
"She runs the show," Steve Torrence said of his mother. "She's the biggest cheerleader, she motivates all the guys, keeps everyone's mind right, she's a big support group for everybody.
"She sends out daily Bible verses to everybody. She keeps us all in-check and makes sure we're doing the right thing. She's having just an unbelievable time.
"I don't know if I'm right or wrong, but I'm going to attribute a lot of our success to her being there and just keeping the morale of all the guys good."
*****************
Growing up, Torrence idolized former Top Fuel and Funny Car champ Kenny Bernstein – also a Texas native.
It was Bernstein's drive for perfection and running a first-class operation that Torrence has patterned his own racing operation after.
"It wasn't just what Kenny accomplished but the way he ran his show, the appearance and the professionalism of everything he did," Torrence said. "As far as I'm concerned, he's 'the man' and always ran the best operation out there. He's kind of set the bar."
Now, Steve Torrence is on the precipice of joining Bernstein as a NHRA Top Fuel champion. While he's not conceding anything, he knows what has to be done.
"The job is to go win the race," Steve Torrence said. "I'm seeing articles about what I have to do and what other drivers have to do to win their own championships this weekend.
"I mean it's cool to read all that, but none of that really matters. I just have to win the race and let it handle itself. I'm not saying that's what we're going to do, but that's our mindset is to go there, qualify well and go four rounds.
"You can't see the forest for the trees, but you've got to chop the forest down one tree at a time, and that's what we're doing."