MEXICO CITY (AP) — Lewis Hamilton won his fifth career Formula One championship with a fourth-place finish Sunday at the Mexican Grand Prix, a race dominated by Red Bull's Max Verstappen.
Hamilton's season championship was all but assured, and after a brief bid for the lead off the start and a scary run off the track late, he finished off the title with a drive further into the F1 record books. The British driver tied the late Juan Manuel Fangio of Argentina for second-most titles in F1 history. Only Germany's Michael Schumacher has more with seven.
The 33-year-old Hamilton won titles with McLaren in 2008 and with Mercedes in 2014, 2015 and 2017. He also clinched last season's title in Mexico City.
Verstappen earned his fifth career victory and defended his 2017 race win.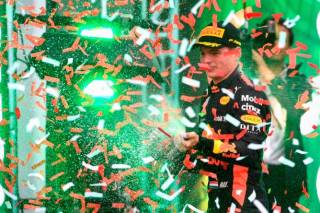 At age 33, Hamilton can set his sights on something previously unthinkable: chasing Schumacher.
Hamilton's championship this season arguably ranks among his best. For the second consecutive year, he fended off a strong challenge from Ferrari in a season when even Hamilton had to admit the Italian team often had the stronger car.
Title rival Sebastian Vettel finished second Sunday and Ferrari also took third with Kimi Raikkonen
Hamilton has won four of his five titles with Mercedes and he's contract through 2020, a deal he extended this season. And even with Ferrari's mechanical gains, Mercedes shows no signs of slowing down.
Hamilton's drive wasn't the Sunday leisure spin he'd hoped for as he complained of problems with the car and tires much of the race. He even had a drive off into the grass when he missed the corner out of the long straight at the Autodromo Hermanos Rodriguez. He got the car back on the track with any damage, except for a moment's aggravation on his historic day.
"A very, very surreal moment," Hamilton said of his championship. "I was just trying to bring the car home."
Red Bull had dominated qualifying to earn its first 1-2 start of the hybrid engine era, but pole-sitter Daniel Ricciardo was beaten off the line by Verstappen and Hamilton. Ricciardo's race ended late with engine failure.
Hamilton could have let the Red Bulls ride off from the start, but he'd promised to look for a shot to grab the lead. He nearly found it when he saw a gap between the Red Bulls and tried to take it. The straight line power of his nosed his car in front until Verstappen cut under him at the first corner.
"The start was the key," Verstappen said. "I was determined to win today."
Hamilton could afford to back off because all he had to do to finish no worse than seventh to win the championship. And even that would have Vettel to win.
Hamilton's primary goal was to avoid trouble. A bump from Vettel at the first turn punctured a tire which relegated him to ninth.
Vettel, a four-time champion himself, opened the season with a strong charge of two straight victories before Hamilton and Mercedes dominated the second half of the season.
Vettel will have the small consolation of beating Hamilton in the title-clinching race, passing him about midway through on a run down the long straight in a test of power between F1's top two teams
Hamilton wrapped up the title with two races left.
"He did a superb job all year," Vettel said. "I would have loved to hang in there a little bit longer."