Defending NHRA Funny Car champion Robert Hight's Twitter account handle is @RobertHight7000.
But heading into next weekend's season-ending Auto Club Finals at Auto Club Raceway in Pomona, California, Hight may want to change his Twitter handle to @RobertHight118.
The reason is pretty clear. Hight, who is also president of John Force Racing, will go into the race trailing JR Todd by 74 points.
With drivers eligible to earn as much as 191 points in the race – that's 1.5 times the normal amount of available points in most regular races – Hight doesn't need a calculator to figure what it's going to take for him to win his second consecutive Funny Car championship and third overall.
Which is why the number in his Twitter handle should be changed to 118 heading to Pomona. Hight must earn 118 more points than Todd in the Nov. 11 final eliminations to earn the championship.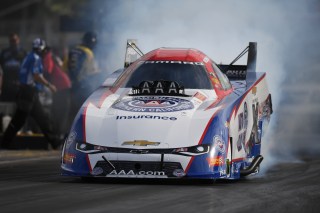 That's not going to be easy, but it's also not impossible. If Todd were to lose in the first round next Sunday, and Hight earns No. 1 qualifier honors and then goes on to win the race, it's mathematically possible that Hight could rally to earn the championship yet again.
MORE: JR Todd: Even with a big lead, 'no letting up' for first NHRA Funny Car title
Admittedly, that's a big task, especially since Todd has reached the final round in four of the first five races of the six-race Countdown to the Championship playoffs currently underway.
But Hight, who has fought through a broken collarbone suffered in a rough crash four races ago (and is still recovering), still feels he's up to overtaking Todd.
"There's nothing like racing in Pomona," said Hight, who has 45 career wins. "Southern California, all the fans there, there's nothing like that.
"I always remember back to my first run in competition coming there and just looking down the track. It was a dream come true getting to race a Funny Car and I still get all those same feelings every time I race there."
Hight finds himself in a more difficult position than he did in last year's playoffs. En route to his 2017 title, he won four of the final 11 races, including two in the Countdown.
Heading to Pomona next week, Hight earned back-to-back wins at both St. Louis (where he suffered the broken collarbone, crashing after winning the race) and Dallas.
But he hurt his championship hopes greatly when he uncharacteristically lost in the first round last weekend at Las Vegas – while Todd went on to win the race and overtake Hight in the standings.
Much like Todd is focusing on himself and his own program and trying to put the challenge Hight presents out of mind, Hight has pretty much the same mindset when it comes to Todd.
"At the beginning of the year, all you can do is hope to be in this position," said Hight, who has four career wins in Pomona. "Up until these last few years, we went through a period where we were going to Vegas and Pomona without a chance to win a title, and that's tough.
"It's painful and I think that makes you appreciate the team you have and everything we have going on this year.
"We all know what we have to do. We love our jobs, but we love to win and that's our main focus. Fans love the thought of the championship going down to the last race and that gets me pumped up."
The battle between Todd and Hight isn't the only championship to be determined. In Pro Stock, Tanner Gray has a massive 140-point lead over five-time champ Jeg Coughlin Jr. and leads third-ranked and two-time champ Erica Enders by 149 points.
Drew Skillman (-170) and Vincent Nobile (-179) are both mathematically in the running for Pro Stock, but about the only way they could rally back is if Gray fails to qualify at Pomona, which is unlikely given his qualifying prowess thus far this season.
And in Pro Stock Motorcycle, it's a tight battle between points leader Matt Smith, defending champ Eddie Krawiec (-4), LE Tonglet (-61) and Hector Arana Jr. (-64).
Also still mathematically in it are 2016 PSM champ Jerry Savoie (-101) and four-time PSM champ Andrew Hines (-113).
MotorSportsTalk will feature previews for both Pro Stock and Pro Stock Motorcycle next week leading up to the season finale in Pomona.