He may hail from Brazil, but Texas has long been like a second home for IMSA and former IndyCar driver Helio Castroneves.
The Lonestar State loves Helio and Helio loves the Lonestar State. That's why it was so fitting Saturday night that Castroneves, along with former NASCAR driver Carl Edwards, was inducted into the Texas Motorsports Hall of Fame during an awards ceremony at Texas Motor Speedway.
Edwards and Castroneves become the 20th and 21st inductees into the Texas hall.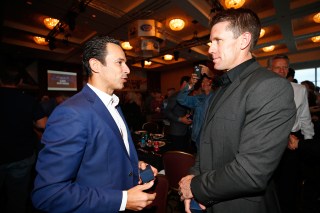 Castroneves holds TMS records for most wins (four), top-10s (15), top-fives (11) and laps-led (506) over the course of a record 20 career starts at the 1.5-mile speedway.
"Coming here today to see the Speedway, I said, 'Man, I miss this place,'" Castroneves, 43, said during Saturday's festivities. "I miss the environment – but I'm not retired. I'm still driving."
While Castroneves moved to Team Penske's sports car operation for the 2018 IMSA WeatherTech SportsCar Championship Series, and he'll be back again for the 2019 campaign, he will once again be back in an Indy car in the 103rd Indianapolis 500. Castroneves hopes to finally earn a record-tying fourth Indy 500 win.
Castroneves asked TMS president Eddie Gossage to talk with team owner Roger Penske and convince him to run a fourth car also in June's IndyCar Series night race at TMS.
"We got to start sending messages to RP," said Castroneves, who received a ring indicating his induction into the Hall. "I'll never stop thanking the fans, whether it's from racing or 'Dancing With the Stars.' This is a phenomenal honor."
********************
Others honored Saturday night included:
* NASCAR team owner Joe Gibbs received the Bruton Smith Legend Award for his leadership of a championship-winning organization.
* NASCAR Cup star Kevin Harvick received the 2017 Racer of the Year Award.
* NASCAR Xfinity title contender Christopher Bell, a native of Oklahoma City, Oka., received the 2017 TMS Sportsmanship Award.
The Texas Motorsports Hall of Fame ceremony serves as a major fundraiser for Speedway Children's Charities-Texas Chapter.