With second-year driver Tanner Gray having all but locked up the NHRA Pro Stock championship, one might think five-time Pro Stock champ Jeg Coughlin Jr. might not have much left to race for in this weekend's season-ending Auto Club Finals in Pomona, California.
Coughlin, who was Pro Stock champion in 2000, 2002, 2007, 2008 and 2013, as well as was runner-up in 1998 and 1999, says that couldn't be further from the truth.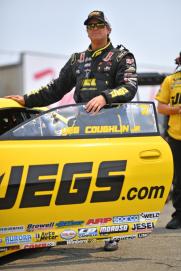 Gray holds a commanding 140-point lead over second-ranked Coughlin in the Pro Stock rankings (teammate and two-time champ Erica Enders is right behind in third place, 149 points back).
With a maximum of 191 points available to be won in the season finale at Auto Club Raceway, Gray would have to lose in the first round of eliminations, while Coughlin would need to qualify No. 1, win the race and set at least one of two speed or elapsed time national records to even have a shot at overtaking Gray for the Pro Stock crown.
But instead of worrying about "ifs," Coughlin is going to go out this weekend doing what he's done his entire career: not worry about the driver in the other lane, not worry about points and just be concerned with doing the best possible job he can do.
And if Gray wins the championship, so be it, and Coughlin will go over and congratulate the young driver for an outstanding 2018 season.
"Pomona is going to be an important race for us as a team," Coughlin said in a Jegs.com media release. "It's a big positioning race for us to figure out really who will finish two through seven. It's very open right now.
"Not only do we want to qualify well and win four rounds on Sunday, we would like to finish as high as No. 2 in the points standings. But even though we're there going in, it's going to be a fight to stay there. We are just going to focus on that."
Coughlin has three wins and two runner-ups in the first 23 races of the 24-race NHRA Mello Yello Drag Racing Series schedule.
He's also qualified No. 1 three separate times during the first five races of the six-race NHRA Countdown to the Championship playoffs (and has qualified No. 1 five times overall this season).
Coughlin and the fabled Pomona track have a long and successful history, with the Ohio native having won there six times in his Pro Stock career, including four times in the season-ending race (1999, 2001, 2005 and 2007).
"It's Pomona, the final race of the season, and emotions are high," Coughlin said. "I'm excited on many levels and for many reasons.
"There's just a lot of neat stuff going on and we still have some ambitions of our own at a track where we've had great successes in the past. It's going to be a big race for us as a team as we try to continue some great momentum and end the year in style."