When Sunday's season-ending Auto Club Finals concludes, John Force will have gone through his fifth season since his record-extending 16th NHRA Funny Car championship in 2013.
Nor will the 69-year-old greatest driver in NHRA history finish runner-up in the standings, like he did for the last time in 2014.
But if you think the Yorba Linda, California resident lays down and merely goes through the motions in Sunday's final rounds of eliminations, you're sadly mistaken.
Force knows what his role is: to play spoiler and to help teammates Robert Hight and Courtney Force, to do well.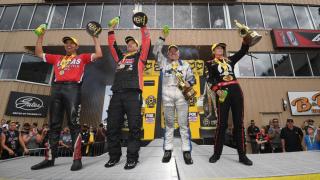 Force comes into Sunday's finals in ninth place in the Funny Car standings, 276 points behind series leader JR Todd.
Hight, who is John Force Racing president, is the defending Funny Car champion and the team's only hope of winning either a Funny Car or Top Fuel championship in 2018.
"My job now is to take out as many as I can and help Robert get the championship for John Force Racing, Auto Club, PEAK, Advance Auto, Chevrolet and the rest of our sponsors," John Force said.
That's unlike 2017, when Hight won the Funny Car crown and Brittany Force, John's daughter, earned her first career NHRA Funny Car championship.
Because a maximum of 191 points are available to be earned by any driver in Sunday's eliminations, John Force mathematically could finish as high as third or fourth place – especially if he wins the season finale.
What's more, a Force win could steal some thunder from either Todd's or Hight's championship celebration, as it would mark something Force has chased much of this season: his 150th career Funny Car win.
"I live for winning," Force said. "I'm up against all these young guns, but so far I'm holding my own."
Force has just one win thus far in 2018, capturing the Dodge Mile-High Nationals to kick off the annual West Coast Swing during the middle part of the season.
That win marked 31 consecutive seasons that Force has won at least one NHRA national tour event.
Plus, heading to Pomona, is an ace in the hole for Force. He's had more success at the suburban Los Angeles facility than anyone else in NHRA history.
He's made 75 career starts at Pomona, which he's considered his home track since 1984. During that 34-year span, Force has won 16 national events – including eight triumphs in the season-ending Finals – and 128 round wins overall.
Force is long overdue to win at Pomona: he hasn't reached the winner's circle since the 2010 season finale. Conversely, though, he's finished runner-up three times in the last five years.
"We've got a pretty good hot rod right now," Force said. "It's not the quickest but it'll go down through there and, early in the year, it wouldn't do that but we battled back.
"These kids, my crew, led by Jon Schaffer, Ronnie Thompson and Joe Veyette, they've worked hard to get it right."
Qualifying begins Friday at 1:30 p.m. PT and 3:45 p.m. PT. Two more runs will be at 12:30 p.m. PT and 3:30 p.m. PT Saturday, and Sunday's 16-car eliminations begin at 11 a.m. PT (2 p.m. ET).