Somewhat lost in last weekend's 2018 season-ending Auto Club Finals was the NHRA announcement that it will reduce the number of Mello Yello Drag Racing Series national event races that Pro Stock cars will compete in in 2019.
The so-called "door slammers" of the sport will see their annual dance cards go from taking part in 24 races to 18 next season (the NHRA reportedly initially wanted to cut the 2019 season to just 16 races before driver complaints brought the number up to 18).
That means if you're a drag racing fan, and especially a Pro Stock diehard, if you intend on attending 2019 NHRA national events in Houston, Charlotte (spring race), Atlanta, Bristol, Topeka or Epping (New Hampshire), guess what?
The Pro Stock cars won't be there. (Although they will return to Charlotte for the fall playoff race.)
The reduction in the number of races for the class had been rumored for several weeks, but for the rumors to ultimately be confirmed still feels like a punch to the gut for Pro Stock fans from Epping to Pomona.
MORE: NHRA cuts Pro Stock competition from 24 to 18 national events in 2019.
But that's not all of the bad news for Pro Stock fans.
The last two Pro Stock champions – 2017 champ Bo Butner and newly-crowned 2018 champ Tanner Gray, who just won the title less than a week ago — will not be returning for 2019.

Butner is leaving the class, while Gray — at 19, the youngest pro class champion ever in NHRA history — is leaving the sport entirely after just two seasons.
When the 2019 NHRA racing season dawns next February in Pomona, California, Butner will return to his NHRA Sportsman racing roots, while Gray will have jumped full-time to the NASCAR K&N East Pro Series.
And there are rumors that several other drivers may not be returning (or potentially at a reduced participation level) in 2019, making one wonder who will show up at Pomona and whether there will be enough drivers and cars for a full 16-car field.

Admittedly, Pro Stock hasn't had quite the popularity or allure it once had. Ever since Top Fuel and Funny Car became the so-called kings of the sport in the 1980s and 1990s and remain so today, Pro Stock has slowly faded.
That's what makes the NHRA's decision to cut the Pro Stock schedule by one-fourth next season so sad.
Pro Stock first debuted in NHRA competition in 1970. During its heyday over the next two-plus decades, Pro Stock lured many fans to places like the Los Angeles County Fairplex (now Auto Club Raceway), Texas Motorplex, Thunder Valley (across from Bristol Motor Speedway), Gainesville Raceway, Firebird Raceway (now Wild Horse Pass Motorsports Park) and so many other venues.
If you're a longtime Pro Stock fan, surely you recall some of the class's greats, such as Sox & Martin, Bill "Grumpy" Jenkins, Bob Glidden, Warren Johnson, Lee Shepherd, Butch Leal, "Dyno" Don Nicholson or Darrell Alderman.
But with Top Fuel and Funny Car having been the NHRA's top draws for more than three decades with past and present stars like John Force, Kenny Bernstein, Don "Snake" Prudhomme, Joe Amato, Gary Scelzi, Ron Capps, Tony Schumacher and so many others, Pro Stock has unfortunately suffered.
After all, Pro Stock cars, which typically top out around 210 mph in 1,320-feet runs, are little match for the ground-shaking and nitromethane-fueled (which oftentimes leads to spectacular engine explosions) 320-plus mph 1,000-foot runs in Top Fuel and Funny Car that fans love so much.
************************
NHRA HAS TRIED TO IMPROVE THE LOT OF PRO STOCK, BUT …
To its credit, NHRA has tried to make Pro Stock more popular over the years, but has also made sometimes questionable calls that have had profound impacts — primarily financial — upon teams.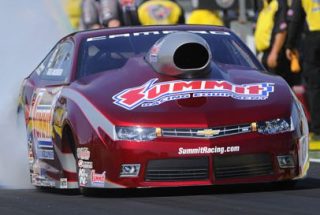 In 2016, the sanctioning body forced Pro Stock teams to switch from carburetors to electronic fuel injection (EFI), as well as to remove the popular, massive-sized hood scoops to make them look more aesthetically like showroom cars.
Cutting the monster hood scoops never really seemed to go over well with the public, as they long were one of the biggest allures of Pro Stock racing for Joe and Jane Fan.
By having to add EFI and eliminate hood scoops, Pro Stock teams were forced to shoulder additional costs — including five-figure (or more) research and development, testing and fabrication expenses — to already very tight team budgets.
Because the class is so competitive, the cost of doing business for Pro Stock teams has continued to grow, to the point where some typically spend well into seven figures, with the biggest expense being near-constant R&D to try and squeeze out every last drop of horsepower possible.
As a result, it's not unusual for some teams to operate in the red because they lack enough sponsorship to cover costs for engines and R&D and testing, body fabrication, employee salaries and of course, the nearly half-year on the road with hotels, plane tickets, food, etc.
If you think Pro Stock teams make up the sponsorship shortfall with prize money they earn at the 24 national events, think again. Prize money (typically $105,000 in total funds per race available to all Pro Stock drivers) accounts for maybe 20 percent — if that — of the amount of money a team needs to keep cars on the racetrack.
And let's not forget all the drama in recent years within the Pro Stock class, with frequent accusations among competitors of cheating and other misdeeds.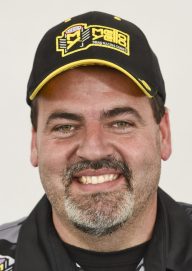 One Pro Stock competitor, Chris McGaha, was so incensed about what he perceived as rampant cheating that he and his family approached the NHRA earlier this season to be allowed to purchase all the fuel that teams in the Pro Stock class use every race weekend, believing some drivers were using secret, undetectable additives in their cars to go faster and quicker. The NHRA agreed to McGaha's request, but that didn't stop beliefs about cheating.
MORE: Drama at the drag strip: Why one NHRA driver — suspecting cheating — filed rare protests against two rivals.
About two-thirds of the way through the 2018 season, McGaha filed rare protests against two fellow drivers, alleging they were using illegal oversized motors. The NHRA investigated and found the motors in compliance, costing McGaha $2,000 in lost protest filing costs.
************************
WHY IS NHRA REDUCING THE 2019 PRO STOCK SCHEDULE?
When NHRA made its announcement about the reduction of the Pro Stock schedule for 2019, it issued a statement that claimed "competitors believe (18 races) is the 'sweet spot' of the category."
The same media release quoted NHRA vice president of racing administration Josh Peterson: "We think the new schedule will increase participation by relieving the economic burden and time commitment that comes with 24 events, which will ignite more intense competition. All of that should make for compelling action and drive fan interest."
While NHRA's edict may be noble and well intentioned, it also may be somewhat misguided. For teams to pay the bills, to remain competitive, to keep pouring money into almost constant engine R&D and optimal aero fabrication, one thing is very clear:
They HAVE to race as much as possible just to have a fighting chance at winning races and championships – and the accompanying prize money.
Now, with the schedule cut by one-fourth, does the NHRA honestly think that Pro Stock teams' costs will suddenly and miraculously also be cut by one-fourth, as well?
Ain't going to happen.
Sure, there will be some reduction in costs, particularly travel, but whatever money saved will likely and invariably be poured into even more engine development and fabrication. It's the nature of the Pro Stock beast.
Granted, reducing the schedule may make some Pro Stock teams more attractive and affordable to potential sponsors, knowing they only have to pay for 18 (or less) races instead of 24.
But at the same time, if you're a potential sponsor with some decent amount of money to spend and you want to give your brand good exposure in NHRA drag racing, would you want to spend it with a Pro Stock team that competes in just 18 races, or would you rather take your bucks and back a Top Fuel dragster or Funny Car, believing that you'll receive better return on your investment for 24 races?
That's kind of a no-brainer.
One other thing to note: with Butner and Gray gone and the possibility others may follow, will Pro Stock have full 16-car fields for all 18 races in 2019? Prospects are concerning, indeed.
************************
POTENTIAL REPLACEMENTS TO PRO STOCK IN THE FUTURE?
Some cynics believe NHRA's reduction of the Pro Stock schedule may be the first step toward eventual elimination of the class. The Pro Modified and Factory Stock classes have enjoyed  increasing popularity over the last few years. And, their cars, not coincidentally, are much less expensive to build and run.
Pro Modified cars are more radical in design than Pro Stockers, which bear some semblance to the kind of cars fans can buy at auto dealerships, particularly the Chevrolet Camaro brand, which dominates Pro Stock.
Factory Stock, meanwhile, is even closer in looks and appearance to street cars than Pro Stock is.
So, while it may be premature to write Pro Stock's obituary, it's also hard to fathom that what was once one of the most popular classes in the sport – and still offers arguably the closest and tightest competition of NHRA's four professional classes when it comes to both elapsed time and speed – has fallen so far.
While NHRA may believe Pro Stock's "sweet spot" will be just 18 races per season going forward, such an action may ultimately wind up leaving a very sour taste in the mouths of a lot of drag racing fans.
Then what will NHRA do?
What do you think about Pro Stock being reduced from 24 to 18 races next season? Make your opinion heard in the above poll.