When his current NASCAR contract is complete at the end of the 2020 season, seven-time NASCAR champion Jimmie Johnson could be interested in racing select IndyCar events.
"Without a doubt (I'm interested in IndyCar)," Johnson said after his ride swap with Fernando Alonso in Bahrain. "2020 is my last year under contract with Hendrick (Motorsports), and I've been approached many times about the Indy 500."
When Johnson was ready to leave off-road truck racing and take the next step up the racing ladder, Chevrolet was taking a hiatus from open wheel racing. That left Johnson with a decision to be made – and while it is one that he has never regretted, a stint in IndyCar could be a return to Johnson's boyhood dreams.
"I grew up in Southern California in the '80s and '90s and NASCAR wasn't around," Johnson said. "It was just a southern sport and I didn't know much about it at all. All of my dreams were to race IndyCar. … Rick Mears came through the same form of auto racing that I did. Robby Gordon. Roger Mears, so that was the plan.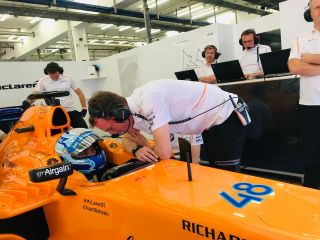 "I've always loved driving different cars. I've watched a lot of open wheel racing as a kid growing up and I've always had a great interest in Formula 1."
The Indy 500 might not be Johnson's first choice, however. Robert Wickens' horrendous crash in August has even experienced open wheel drivers like Tony Stewart reconsidering the consequences of high-speed ovals. But Johnson has already shown success on road courses in sports cars and could find that type of racing imminently more attractive.
"I'm not overly excited about those fast ovals, but I think with my status and relationships I could put together some road course races in IndyCar.
"I'd look at anything. I've done sports car racing in the past. I've finished second in the Rolex 24 a couple of times in the Prototype division. Would love to get back to doing that. Anything is open. I'm far from done. I want to keep driving and hopefully I can find some good opportunities."
The Johnson / Alonso driver swap is the third time Formula 1 and NASCAR drivers have exchanged rides. In 2003, Juan Pablo Montoya and Jeff Gordon drove one another's cars at Indianapolis Motor Speedway. In 2011, Lewis Hamilton and Tony Stewart did so at Watkins Glen International.
When the sport was much younger, competitive drivers worried less about the style of auto racing and concentrated on going fast in any type of car. Harkening back to the heroes of the 1970s like AJ Foyt, Parnelli Jones and Dan Gurney, Johnson would like to see a return to that Renaissance movement.
"I feel like drivers at a young age have to decide if they want to race sedans or open wheel cars.
"I don't know if it's right for that judgement to take place and I look back at my heroes .. and when you look at Parnelli Jones, Mario (Andretti), Dan Gurney, Emmo (Fittipaldi), they raced anything. And I don't know where that got lost. In the '80s or '90s, it was, 'You're just open-wheel and you're just sedan.'
"I don't know why that's there. I feel like an open-minded driver – and one that's ready to work – could cross and go either direction. We've seen quite a few open-wheel guys try NASCAR and they've been competitive. I don't think there's been as many victories as some would have thought, but they've been competitive.
"No one has gone the other way. So I would love to see somebody go the other way."