Day 2
Charles Leclerc's tenure with Ferrari got off to a good start in Day 2 of a Pirelli tire test in Abu Dhabi.  Pierre Gasly was second fastest with his new Red Bull team.
Leclerc's time of 1.36:450 was the fastest of the two days and notably quicker than Gasly's 1.37:916. Both times were recorded with next year's hypersoft tires.
Lance Stroll, Valtteri Bottas and Carlos Sainz Jr. rounded out the top five.
Testing instead of Daniel Ricciardo, Artem Markelov (1.38:590) landed sixth on the chart but not before spinning in the morning.
Testing for Toro Rosso, Daniil Kyvat recorded the most laps at 155.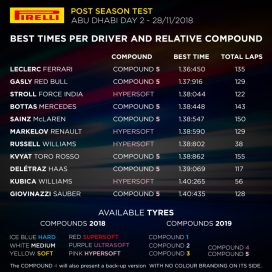 Day 1
Day 1 of testing featured Sebastian Vettel (1.36:812) at the top of the charts over Bottas (1.37:231).
Third-best Stroll joined Bottas as the only two drivers to post top-five times in both sessions.
Max Verstappen and Sergio Perez rounded out the top five.
Before posting his fast time, Vettel spun off course at Turn 1 around the three hour mark. He contacted the wall, but was able to drive back to the pits under his own power.
Pietro Fittipaldi caused another stoppage during the morning when his car Haas F1 stalled on track with an oil leak.
George Russell (1.39:512) turned 42 laps in his new Williams ride and finished 10th on the chart.