When asked who would likely be his primary challenger in 2019, Lewis Hamilton told Formula1.com "I would imagine it's going to be Sebastian (Vettel). And Valtteri (Bottas) alongside me.
There is a good reason for that assessment. Hamilton and Vettel spent the entire season either first or second in the standings. Vettel held the top spot six of the first 10 weeks; Hamilton led the series the other four weeks and the average difference between first and second was 9.2 points.
Then came Germany.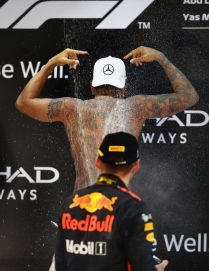 Vettel crashed on Lap 51 while leading – handing the top spot over to Bottas for one lap before Hamilton took command for the final 15 circuits. The 25 points lost dropped Vettel from top rung of the championship by eight points to the second rung by 17. He would never recover and after the Italian Grand Prix, race 14 of 21, Vettel continuously slipped further behind Hamilton.
The only race after Italy in which Vettell finished ahead of Hamilton was in Mexico and by then, the championship was decided. Vettel finished second in the Mexican GP; Hamilton was only six points back in fourth.
If not Vettel, Hamilton is keeping his eye on Max Verstappen.
"They've got a great car," Hamilton said. "They've been very strong at the end of the year, they've got a new engine next year. Will it be able to compete with ours? I hope so, because that would be epic if Red Bull could really start to mingle with us a bit more, weekend in, weekend out.
"They've got to obviously improve on their reliability, which has been a big downfall for them this year. So there's lots of areas [to work on], but I really wish them all the best – and we are down for the competition that's for sure."
As Vettel was slipping behind, Verstappen was catching up. He outscored the Ferrari driver in the second half of the season and came within one point of securing third in the driver's championship behind Kimi Raikkonen.
Of course, overtaking Mercedes is going to be a challenge for everyone. They have won the last five championships – four for Hamilton and one for Nico Rosberg. Before that, Red Bull Racing and Renault were on a four-year winning streak with Vettel behind the wheel.
Points Standings by the Week
| Week | Grand Prix | Leader | Second | Third |
| --- | --- | --- | --- | --- |
| 1 | Australian | Vettel | Hamilton (-7) | Raikkonen (-10) |
| 2 | Bahrain | Vettel | Hamilton (-17) | Bottas (-28) |
| 3 | Chinese | Vettel | Hamilton (-9) | Bottas (-14) |
| 4 | Azerbaijan | Hamilton | Vettel (-4) | Raikkonen (-22) |
| 5 | Spanish | Hamilton | Vettel (-17) | Bottas (-37) |
| 6 | Monaco | Hamilton | Vettel (-14) | Ricciardo (-38) |
| 7 | Canadian | Vettel | Hamilton (-1) | Bottas (-35) |
| 8 | French | Hamilton | Vettel (-14) | Ricciardo (-49) |
| 9 | Austrian | Vettel | Hamilton (-1) | Raikkonen (-45) |
| 10 | British | Vettel | Hamilton (-8) | Raikkonen (-55) |
| 11 | German | Hamilton | Vettel (-17) | Raikkonen (-57) |
| 12 | Hungarian | Hamilton | Vettel (-24) | Raikkonen (-57) |
| 13 | Belgian | Hamilton | Vettel (-17) | Raikkonen (-85) |
| 14 | Italian | Hamilton | Vettel (-30) | Raikkonen (-92) |
| 15 | Singapore | Hamilton | Vettel (-40) | Raikkonen (-107) |
| 16 | Russian | Hamilton | Vettel (-50) | Bottas (-117) |
| 17 | Japanese | Hamilton | Vettel (-67) | Bottas (-124) |
| 18 | United States | Hamilton | Vettel (-70) | Raikkonen (-125) |
| 19 | Mexican | Hamilton | Vettel (-64) | Raikkonen (-122) |
| 20 | Brazilian | Hamilton | Vettel (-81) | Raikkonen (-132) |
| 21 | Abu Dhabi | Hamilton | Vettel (-88) | Raikkonen (-157) |