On Wednesday, NBC and MX Sports Pro Racing announced they will continue their partnership with Lucas Oil Pro Motocross. NBC will be the television and digital home of the series. The deal runs through the 2021 season, which gives the partners a decade together.
It was also announced that Luca Oil will return as the series sponsor.
As part of the agreement, all main practice sessions, qualifiers and Motos 1 and 2 will be shown live and commercial-free via NBC Sports Gold's "Pro Motocross Pass". Via the pass, more than 60 hours of live coverage will be shown.
Additionally, viewers will have access to full replays of all events from 2017 and 2018.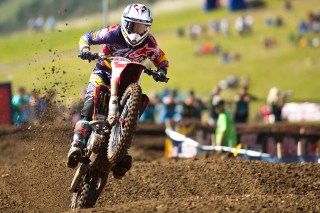 "As the home of motorsports, we're proud to continue our strong relationship with the Lucas Oil Pro Motocross Championship and MX Sports Pro Racing into the next decade, further establishing our presence in the motocross community," said Rob Simmelkjaer, senior vice president, NBC Sports Ventures. "Fans know NBC Sports is the home for all things motocross, from our linear coverage on NBC and NBCSN, to our robust offering on our direct-to-consumer product, NBC Sports Gold."
Last year, Eli Tomac beat Marvin Musquin for the 450cc class by only 16 points. Aaron Plessinger outpaced Alex Martin in the 250cc class.
"We're thrilled that NBC Sports will remain the home of American motocross for the foreseeable future, which will ultimately culminate in a decade-long partnership for the Lucas Oil Pro Motocross Championship," said Carrie Coombs Russell, MX Sports Pro Racing CEO. "We are committed to providing our dedicated and loyal fanbase with as much live content as possible, and the continued development of a digital platform with NBC Sports Gold shows what the future can hold as we collectively push to grow the sport.
"We are delighted to continue on with this relationship and do our part to help the sport keep growing."
Coverage begins with the Hangtown Classic on Saturday, May 18.
2019 Lucas Oil Pro Motocross Championship Telecast on NBC and NBCSN
| Date | Event | Time (ET) | Network |
| --- | --- | --- | --- |
| Sat., May 18 | Hangtown Classic* – 2nd Motos | 6 p.m. | NBCSN |
| Sat., May 25 | TBA* – 2nd Motos | 6 p.m. | NBCSN |
| Sun., June 2 | Thunder Valley National* – 2nd Motos | 4 p.m. | NBCSN |
| Sat., June 15 | High Point National – 2nd Motos | 3 p.m. | NBC |
| | High Point National – 2nd Motos | 4 p.m. | NBCSN |
| Sat., June 22 | Florida National – 2nd Motos | 3 p.m. | NBCSN |
| Sun., June 30 | Southwick National* – 2nd Motos | 10:30 p.m. | NBCSN |
| Sat., July 6 | RedBud National – 2nd Motos | 3 p.m. | NBC |
| | RedBud National* – 2nd Motos | 7 p.m. | NBCSN |
| Sun., July 21 | Spring Creek National* – 2nd Motos | 1 a.m. | NBCSN |
| Sat., July 27 | Washougal National* – 2nd Motos | 10 p.m. | NBCSN |
| Sat., Aug. 10 | Unadilla National – 2nd Motos | 3 p.m. | NBC |
| | Unadilla National*- 2nd Motos | 7 p.m. | NBCSN |
| Sat., Aug. 17 | Budds Creek National – 2nd Motos | 4 p.m. | NBCSN |
| Sat., Aug. 24 | Ironman National* – 2nd Motos | 11 p.m. | NBCSN |