For diehard fans of sports car racing, the countdown has begun. The 2019 Rolex 24 Hours of Daytona — the 50th anniversary, no less — is 50 days away and will be seen in its entirety on NBCSN and the NBC Sports App.
Complete details and a full schedule can be found at IMSA.com.
Race day coverage begins on Saturday, January 26 at 1 p.m. ET with a preview of the upcoming race on NBCSN that will originally air on Thursday, January 24 at 2 p.m.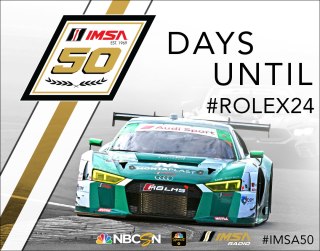 Stay tuned to NBCSN at 2 p.m. for the countdown to green and the opening stage of the twice around the clock classic.
From 5-9 p.m., coverage shifts to the NBC Sports app before returning to NBCSN from 9 p.m. until 3 a.m. Sunday morning.
Make the switch back to the NBC Sports from 3-6 a.m. and then return to NBCSN from 6 a.m. until the checkered flag waves and post-race is concluded at 3 pm.
MORE: Derek Bell recalls the first time he hit Daytona's banking
Before race day activities begin, tune into NBCSN on Thursday, January 24 for qualification from 3-5 p.m.
Last year, Mustang Sampling Racing made 808 laps around the track before ushering Felipe Albuquerque, Joao Barbosa and Christian Fittipaldi to victory lane.
Ryan Briscoe, Scott Dixon and Richard Westbrook completed 783 laps to lead Chip Ganassi Racing to the GTLM class victory.
Mirko Bortolotti, Franck Perera, Rolf Ineichen and Rik Breukers scored the GTD victory for GRT Grasser Racing Team after 752 laps.