Legendary NHRA Funny Car driver John Force admits that he has "mixed feelings" about Thursday's announcement that daughter Courtney has likely ended her drag racing career.
On one hand, John Force has a number of great memories garnered from not only watching Courtney grow up, but also as she followed in his racing footsteps to become Funny Car racing's winningest female driver during her seven-year career in the class. He couldn't be prouder of the person she's become and what she's achieved.
"Courtney, my daughter, grew up around racing," John Force told NBC Sports. "As a kid she lived at the race tracks and at home she drew pictures racing her dad in a Funny Car.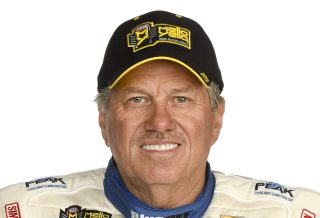 "We knew at an early age that all the girls had an interest but Courtney probably showed it the most. As she evolved through super comp into A-fuel while attending college and getting her degree, it was always about race cars. When she went pro, following her sister Ashely, she excelled.
"Courtney had this love and passion and she took to it like a fish in water,. She was living the dream like I was, running to the race tracks, travelling, loving the teams. That was probably what she cherished most was her team, that was her family.
"It wasn't just the winning, she proved she could do that, she led the points all of 2018 and we thought she was going to win the title, but she always worked with the fans, especially the children. They adored her, why wouldn't they? She is a social media machine and a PR dream and worked it continually. She accomplished so much and now wants to move onto the next chapter in her life."
But on the other hand, the elder Force had hoped his youngest of four daughters would eventually replace him as the lead Funny Car driver at John Force Racing
Am I saddened by her leaving? Yes and no. I have mixed emotions. (Courtney) would have replaced me in time.
"Am I saddened by her leaving? Yes and no. I have mixed emotions," John Force said. "(Courtney) would have replaced me in time as a female Funny Car star but now her goal is to move ahead.
"Once you get hooked on the sport it's really hard to walk away. She not only drove a race car but she married a race car driver, Graham Rahal, so she's in this life."
Courtney is now the second of three of Force's daughters who have walked away from racing (Ashley Force Hood ended her career after the 2011 season to start a family).
But her older sister, 2017 NHRA Top Fuel champ Brittany, will continue to carry the family torch, in addition to papa John, who turns 70 in May.
John Force said that while Courtney will no longer be behind the wheel, she will still be involved in the sport in other ways, including serving as a spokesman for Advance Auto Parts, as well as having a presence at John Force Racing.
"Courtney will continue to work with sponsors in the future," Force said. "She's going to be out there and not just at the drag races.
"It's been fun the last few days, we've spent some time with her, the whole family, (wife) Laurie, Brittany, Ashely, Adria (plus John Force's other three daughters) and myself. It's important to keep the family together. The door is always open (for Courtney), she'll always have a spot here at John Force Racing if she chooses."