One day after Courtney Force announced she was stepping away from drag racing, John Force Racing revealed Friday morning that Courtney's primary sponsor for the past two seasons, Advance Auto Parts, will move to the Top Fuel dragster of her older sister, Brittany Force, for the 2019 NHRA season.
Thursday's news that Courtney Force, the youngest of four daughters of 16-time NHRA Funny Car champion John Force, was walking away from active driving competition after seven years in a Funny Car rocked the NHRA world. Courtney is one of the most popular drivers on the NHRA circuit.
Brittany Force, who won the 2017 NHRA Top Fuel championship, had previously been sponsored by Monster Energy, but that relationship ended at the conclusion of the 2018 season.
Brittany Force will be sporting her new Advance Auto Parts colors both at next week's NHRA annual three-day preseason test at Wild Horse Pass Motorsports Park in suburban Phoenix, and officially for the first time in active competition at the season-opening NHRA Lucas Oil Winternationals, February 7-10, at Auto Club Raceway in Pomona, California.
"I'm really excited to start this season teaming up with Advance Auto Parts," Brittany Force said in a media release. "They've been such a great partner to John Force Racing the past two years. They exceeded expectations when working with Courtney, building her as their brand ambassador, and I can't wait to see what we can accomplish together.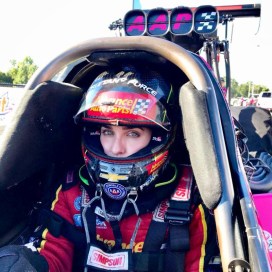 "I'm looking forward to getting them their first win in a dragster and ultimately going after a championship. Off track, I look forward to creating new relationships and being involved with everything this great company has to offer."
Brittany Force became only the second female to ever win a Top Fuel championship in NHRA history in 2017, and the first woman to do so in 35 years since Shirley Muldowney captured her third and final Top Fuel crown in 1982.
The third of four daughters for John Force, Brittany Force struggled at times during the 2018 campaign, including a wild crash in last year's season-opening Winternationals. Brittany was uninjured in the incident.
She would go on to finish fifth in the Top Fuel standings and won the NHRA Springnationals, her only victory of 2018 after capturing four wins in her championship season.