In the parking lot at Anaheim, Justin Bogle was approached by the Daniel Blair of the Race Day Live crew and asked when he was going to be a guest on their show. "Let me get a good result first," he replied.
The next week, he went out to score his first top 10 of the season at Oakland. One week later, he scored his first top five on a muddy track in San Diego.
Soft spoken Bogle is just happy to be here. His ride on the Rocky Mountain ATV/MC KTM came late during the offseason after a disappointing 2018 that saw limited seat time due to injury. Finishing 35th in the standings last year was a far cry from the 2014 250 Eastern Regional championship that established him.
"I didn't really ride much at all last year," Bogle told the Race Day Live crew on NBC Sports Gold during qualification at Minneapolis. "So jumping on the KTM Monday before Anaheim I – It was a bit of a tall ask for the season for me in regard to the season right now, but the bike is so good. … When I got there, the bike was pretty dialed in. I haven't changed hardly anything since I've been racing. It's just me getting my sea legs under me."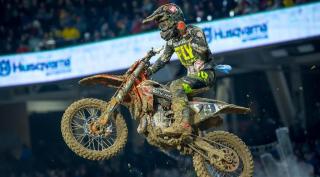 Bogle climbed onto the No. 19 motorcycle when Benny Bloss was injured during the offseason.
"I'm definitely feeling better every single week. I think that's the best thing for me," Bogle said. "Just getting more time under my belt; more time with the team."
His lengthy sojourn from racing taught patience and the importance of a good attitude. That was apparent at San Diego, where Bogle moved up the grid as others around him wrecked.
It's not that Bogle was incident free. He crashed in his heat, but picked his bike up and continued on to finish fifth in a field of 20 and advance to the Main.
Bogle crashed in the Main as well – on at least three occasions – but he cleared his visor and refused to let the accidents slow him. Keeping a good attitude? Well, that comes natural to the Oklahoma rider.
"I think that's with anything in life, not just when it's muddy," Bogle said. "It's every weekend. It's every day when you're training. The attitude is so important when you're training. The attitude/altitude thing. You're going to stay low if you don't have a good attitude."
Bogle summed up his attitude with one line.
"This lifestyle is pretty simple: You wake up, do as good as you can and then go to sleep and do it again."