With three championships in five years (2012, 2015 and 2016) and 66 career wins (50 in Top Fuel and another 16 in Pro Stock Motorcycle), Antron Brown is used to winning – and he obviously more than has the racing resume to back that up.
While the New Jersey native – he now makes his home in suburban Indianapolis – walks around with an almost constant big smile on his face and possesses a good-natured attitude, Brown is also one of the fiercest and most diligent competitors in the NHRA.
Ask most of his competitors in the Top Fuel ranks and Brown is arguably one of the last opponents they want to look over and see in the opposite lane at the starting line.
Now that the 2019 NHRA Mello Yello Drag Racing Series season kicked off this past weekend in Pomona, California, Brown is ready to become one of the top competitors on the Top Fuel circuit this season.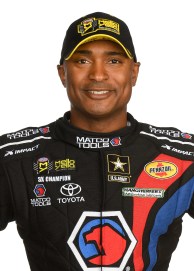 The reason is simple: Brown is coming off a less-than-normal season for him.
In 2018, Brown suffered through one of the worst seasons he's experienced in his drag racing career. He managed just one win (Seattle). The last time he had so few victories in a Top Fuel season was in 2010.
And while the driver of the Don Schumacher Racing Matco Tools Toyota Top Fuel Dragster qualified for the six-race Countdown to the Championship playoffs for an 11th consecutive season, Brown ended 2018 with a dismal sixth-place finish in the final standings.
He's bound and determined not to go through that kind of season again. No way, no how.
"I don't like to lose," Brown said. "To be truthful, when we come in here, we're here to bring the pain to other teams.
"We all look for a championship. That's what we're focused on. Last year we learned a lot of stuff. It was a good thing that we were competitive all year and we raced at a high level."
To illustrate how much of a downturn 2018 was for Brown, consider this: In the previous seven seasons (2011-2017), he won a combined 40 races. During that same stretch, he averaged no fewer than four wins per season.
"This year, we're looking to improve upon that and go back to the way that we used to be," Brown said. "We are looking to give Torrence Racing a run for the championship (he's best friends with defending Top Fuel champ Steve Torrence).
"We want to be able to go out and compete for our fourth title. Our main focus is to be in a good position heading into the Countdown to give us a chance to bring it home."
Admittedly, Brown lost in a very close first-round battle to teammate Leah Pritchett at Pomona, but he's ready to shake it off and move on to next weekend's race in suburban Phoenix.
"We're always working at getting better at Don Schumacher Racing," Brown said. "These Matco Toyota boys have put the work in during the off-season, getting the car right.
"I've been working out hard and gotten myself physically right. I'm coming in with no aches or pains and in some of the best shape I've ever come into a season in. We're poised and eager to go out there and compete."
And as the late NFL team owner Al Davis used to say – and a philosophy Brown lives by every day: "Just win, baby."