After 175 days since the season finale at Sonoma Raceway, IndyCar will swing back into action on the streets and runways of St Petersburg, Fla.
The first of four street courses (along with Long Beach, Belle Isle and Toronto), this 1.8-mile circuit has hosted races since 2005. It kicked off the season in 2009 and every year since 2011. Getting off to a strong start on the Streets of St. Pete does not necessarily translate to season-long success in part because most of the temporary circuits are front-loaded in the year while ovals and permanent road courses dominate the second half.
Here are five things to know about this week's Firestone Grand Prix of St. Petersburg:
St. Petersburg has been won in back-to-back seasons three times, but no one has ever won three consecutive. Sebastien Bourdais won in 2017 and 2018. The first 12 runnings of this race were won from a starting position of 9th or better. The last two have been won from 21st in 2017 and 14th in 2018.
In 14 races, four drivers have multiple wins at St. Petersburg: Will Power, Bourdais and Juan Pablo Montoya have two; Helio Castroneves has three. The winner of this race has gone on to win the championship three times: Dan Wheldon in 2005, Dario Franchitti in 2011 and Power in 2014.
This race has been won from the pole only twice (Castroneves in 2007 and Power in 2010) and from the outside pole once (Franchitti in 2011).
Scott Dixon and Tony Kanaan are the only drivers to start every race on this track. Kanaan has been running at the finish of all but one of those races. Dixon has retired four times.
Ten countries are represented among 24 entrants: the United States with 10 (three from California, two from Ohio and Florida with one each from Tennessee, Connecticut and Pennsylvania, England has three, there are two each from Brazil, Sweden and France, plus one each from Canada, Australia, New Zealand, United Arab Emirates and Japan.
MORE: Sebastien Bourdais hopes another fast start lasts all season 
MORE: Five things to watch for in the 2019 IndyCar season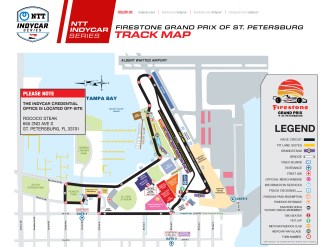 NBC Sports' coverage of the 2019 NTT IndyCar Series begins on March 10 with the Streets of St. Petersburg at 1 p.m. ET on NBCSN, NBCSports.com, and the NBC Sports app. Watch the entire 2019 IndyCar season on NBC, NBCSN and NBC Sports Gold.