One of the greatest beauties of NHRA drag racing is a driver not just earning his/her first win, but also where they go from there.
Top Fuel driver Clay Millican is among the most recent to enter that category. It took the Drummonds, Tennessee native nearly 20 years before he earned his first national event win.
Ironically enough, it couldn't have come at a better place: it was 2017 and at Millican's home track of Bristol Dragway, directly across the street from it's well-known older brother, NASCAR's Bristol Motor Speedway.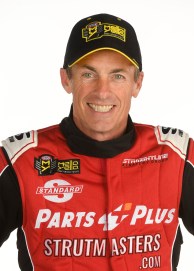 After chasing the dream of making it to victory lane for nearly two decades, Millican was rewarded for his patience and perseverance.
But it's what has come after that which has only made his story even better.
Millican, who made his first Top Fuel start in 1998, came out of virtually nowhere to not only win two other races in 2018, he finished a career-best third in the final Top Fuel point standings.
Fans have gone from saying, "Clay who?" to "Man, that Clay can drive."
Indeed, the 53-year-old Millican can drive.
And now, as he prepares for this weekend's DENSO Spark Plugs Four-Wide Nationals at The Strip at Las Vegas Motor Speedway, Millican is ready to continue showing it's never too late to be a winner and potential champion in NHRA drag racing.
Millican comes into this weekend's event eighth in the points, but he's also riding momentum. After two disappointing first-round exits in the season-opening race at Pomona, California, and two weeks later at Chandler, Arizona, Millican had the pedal to metal two weeks ago at Gainesville, Florida, finishing a close runner-up to race winner Richie Crampton.
Millican will make his 295th national event start. In addition to his three wins over the last two seasons, he also has 10 runner-up finishes in his career, along with 44 semi-final finishes and 81 quarter-final finishes. He also has qualified No. 1 20 times in his career, a significant improvement over the 24 DNQs (did not qualify) he suffered through primarily earlier in his career.
In addition, Millican holds the national Top Fuel elapsed time record of 3.628 seconds over a 1,000-foot long drag strip.
Millican is particularly looking forward to this weekend's race because with four lanes of cars competing against each other, it kind of takes him back to his roots in bracket racing before moving on to Top Fuel.
"I love the confusion on the starting line," Millican said. "I'm a bracket racer at heart.
"I love the race and I love the huge crowds at an event like that. It's way more fun to show out in front of a packed house and last year was a packed house."
And he also has to do what he did at Gainesville two weeks ago, as well as for much of last season.
"We just have to maintain consistency going down the track," Millican said. "If we do that, we'll turn win lights on. If we can maintain consistency, that consistency will get us wins."
Millican's slow start in the first two races isn't a complete surprise. Even though they previously worked together several years ago, he and new crew chief Mike Kloeber had growing pains together until they were able to take a big chomp out of the competition at the Gatornationals.
"I knew it was going to be okay," Millican said. "There were plenty of naysayers to hiring a guy who has been out of it a while, but we were confident.
"There was no question in our mind in our mind Mike was going to be able to get this going. Winning rounds was not a surprise, but as far as what we're doing, going to the finals doesn't change anything. We want to keep winning rounds.
"We made six straight competitive runs from Saturday through the final round (at Gainesville), and that was huge. Mike was able to get a handle on what the car wants and needs. That let us know as a group we can be thrown into the fire and get it done. They got through the fire together and it gives us confidence we can do this as a group."
NOTES: Steve Torrence (Top Fuel), J.R. Todd (Funny Car) and Vincent Nobile (Pro Stock) are defending winners of this weekend's event, the fourth of 24 races during the 2019 NHRA season and marks the second four-wide race in Las Vegas.