Valtteri Bottas will start on the pole position for Sunday's Azerbaijan Grand Prix after posting the fastest lap in a wild qualifying session that saw Charles Leclerc fail to advance to Q3 after hitting the outside wall in turn 8.
The Ferrari rookie was a favorite for the pole, having set the fastest time in all three of the weekend's practice sessions. Leclerc's luck quickly disappeared when he brought out a red flag by hitting the same wall that Robert Kubica hit in Q1. Both drivers walked away from their accidents.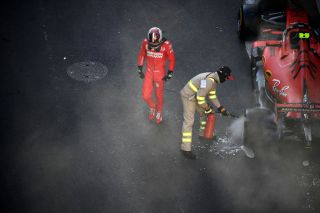 "No excuses. I've been useless. I will push to have a better tomorrow," Leclerc tweeted following his accident in Q2
"Sorry to all the people supporting us and even more to the whole team that deserved so much better."
Leclerc's misfortune was all that Mercedes duo of Bottas and Lewis Hamilton needed to sweep the front row once again.
Bottas took the pole with an elapsed time of 1:40.495, with Hamilton (1:40:554) starting second in Sunday's Grand Prix.
"It's a nice feeling to get [pole] on the last lap," Bottas told reporters following qualifying.
"Ferrari have been really quick. It's all about the small margins. I managed to hit the sweet spot."
Sebastian Vettel (1:40.797) will start Sunday's Grand Prix from the third position, with Max Verstappen (1:41:069), Sergio Perez (1:41:593) and Daniil Kvyatt (1:41:681) starting fourth, fifth and sixth, respectively.
Leclerc will start Sunday's race from the 10th position.
Full qualifying results and times are below: