Cooper Webb's remarkable 2019 season saw him rise from what seemed to be impending irrelevance in the Supercross 450 class to his first championship.
The difference between two years of struggle and his meteoric ascent was resetting his mindset, not once but twice.
"I was with Yamaha the last two years and really had an abundance of injuries and really couldn't stay healthy and this year I switched teams to the Red Bull KTM team and I think the bike just really fit me really well," Webb said on Thursday's edition of NASCAR America. "For me it was just a reset and I think it really motivated me to get back where I was in the 250 days."
Webb's rapid progression through the Supercross ranks was interrupted in 2017 and 2018. After winning the 2015 and 2016 250 West championship plus the 2016 250 Motocross championship, he suffered through multiple injuries that could have left him on the sidelines. With factory support from KTM, it was time to prove himself.
"The last two years have been tough and there was a lot of talk – a lot of negativity being said by fans and riders that I would never be relevant again," Webb continued.
Webb finished third in the first Anaheim race on a heavy, muddy track. He finished 10th in Round 2, but with expectations still raised by the move to his new team, he knew that was an aberration.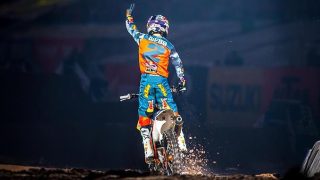 It didn't take long to prove his critics wrong. Round 3 of the Supercross season saw him win the first two Mains in that week's Triple Crown format. That single race became a microcosm of his season. Comfortable with two victories against the sport's toughest competition under his belt, he rode both an aggressive and safe race. He would not put his bike at risk in the third Main, but still finished third for the overall win. It was his first career win in the 450 class.
"As soon as you win that first race – get on that podium – it's that belief instantly is there again," Webb said as he described his second mental reset of the season. "I think for me that was the biggest thing. I knew I had the opportunity and the ability to win this year, but as soon as I did it, it was just a whole new mindset and a whole new belief that, 'hey you achieved it.'
"You just want to keep going and that feeling (of winning) becomes addicting."
Webb won three of the next four races, stood on the second step of the podium at Detroit and then won again the following week in Atlanta. He would fail to stand on the podium only once more (a fourth at Seattle) on his way to the championship.
"Now that I've (won the championship), the sky's the limit," Webb said.
With his head in the clouds, Webb will test that limit next week in Rancho Cordova, California at Hangtown as the Motocross season begins.
For more, watch the video above.