DETROIT – Sebastien Bourdais went airborne but somehow managed to land in the top 10 of Sunday's Chevrolet Detroit Grand Prix.
After his unexpected flight in the air, he was furious with fellow driver Spencer Pigot, who was trying to enter pit lane at the time of the crash on Lap 15.
"I understand that Spencer is upset, but I don't understand what I'm supposed to believe what he was doing," Bourdais told NBCSports.com on pit lane after finishing ninth. "He was clearly struggling with the Red tires and going nowhere and getting passed and getting passed. He didn't signal that he was going to come into the pits. He lets me get a run to the inside coming off Turn 13. There is no message on my radio saying he is coming in.
"I got a run to the inside and instead of backing off to the left and crossing behind me, he jams on the brakes when I'm on his right rear.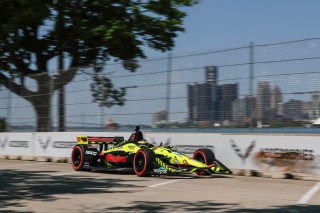 "I took a massive hit and a massive fly, and I have no idea how we survived that one. I thought the suspension would have collapsed and it didn't. Thankfully, it wasn't the end of our race, but we had a serious recovery after that because the SealMaster team was pretty quick. The guys were smart and played it well and saw we couldn't get the nose back on the car, so we went back out and came back in a few laps later to get the nose back on the car."
According to Bourdais, it was very tricky to get around the Belle Isle street course because there was maximum downforce on the rear of the car and no front wing to balance the car. He was able to make it back to the pits in time to have a new front nose and wing installed. The Dale Coyne Racing with Vasser Sullivan team was able to do all of that without Bourdais losing a lap.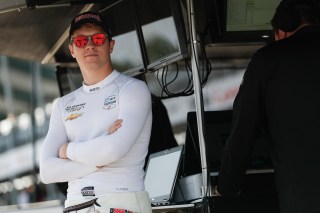 As for Pigot, however, he had a different view of the incident than Bourdais. He claims he let others know he was making a pit stop.
"Obviously, (Scott) Dixon and I were both struggling a lot on those tires, getting passed left and right," Pigot recalled. "It was very easy for all other drivers to see and it wasn't going to take much to get by us. Coming out of (Turn) 13, as soon as I could, I got over to the right to signal I was coming into the pit lane. There's obviously public radio as well that (said) we're pitting; everyone can hear that.
"I just felt a massive hit from behind. It caused a lot of damage, and obviously, with the tires in that state, you have to brake a little early coming to pit lane. I don't know if that's what caught (Sebastien Bourdais) off or what, but it's definitely unfortunate."
Bourdais believes the issue is a matter of "common sense" and not something that needs to be addressed by the sanctioning body.
"He's got mirrors," Bourdais said of Pigot. "He knows I'm on his gearbox. If somebody has a run on you and is in your gearbox and you are supposed to pit, you don't jam on the brakes when someone is in your butt.
"I'm sure we will talk about it, but I don't know what he was hoping would happen."
Bourdais believes Pigot is a very methodical driver and was surprised by what happened to create the crash.
"When you are on his right and the pit lane is to the right, somebody had to give and it's not the guy that has the run on him," Bourdais said. "The nose of the car should have collapsed, but the saving grace is we didn't have any suspension damage."
Bourdais believes the Firestone Red tires were too soft over the weekend. The Reds are a softer compound to allow more speed but wear out at a quicker rate.
"After five laps, the Reds were done," Bourdais explained. "Even the Blacks wore out. They need to stop going softer and softer. The speeds are up because of that. At some point, softer tires have their limits."