Jianna Salinas' father, Mike Salinas, races for Scrappers Racing in NHRA Top Fuel competition.
That San Jose, California-based team's name is also the perfect description of Jianna Salinas' bounce back from a terrifying run in Pro Stock Motorcycle during eliminations Sunday in the NHRA Route 66 Nationals in Joliet, Illinois.
Jianna, a 22-year-old rookie rider on the NHRA national event circuit, was indeed a scrapper after she fell off her bike, the bike crashed, bounced over her, hit the wall – and after a few moments of lying motionless, she got up under her own power and emerged from the incident with only minor bruises.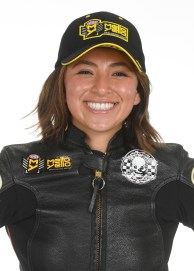 The younger Salinas was reportedly doing over 130 mph when her bike went down.
"I'm doing great," she said about an hour after her wreck. She even went back on-track to watch the next round of bike eliminations.
"You fall down, you get right back up and you learn from it, that's all you can do," Salinas said. "They were amazing, honestly everybody, the NHRA, Safety Safari, they came up to me super-fast.
"I was trying to out-run them (so she could get to her wounded two-wheeler), but they wouldn't let me go. They were great."
Salinas was racing Hector Arana Jr. in Sunday's quarterfinals and jumped out to an early lead before her bike began drifting toward the centerline. She struck two timing blocks on the centerline, which is an automatic disqualification, and then her bike shot to the right and the outside retaining wall.
Salinas and the bike went down just before reaching the wall. While the bike made contact with the concrete wall, Salinas did not, fortunately. She went to the track medical center, was checked out and released.
2018 NHRA PSM champion and Sunday's winning rider, Matt Smith, spoke with NBC Sports after the race and was asked about Salinas' mishap.
Here's what he had to say: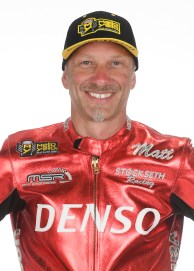 "I hate to see anybody wreck, especially in our class or any class for that fact. I'm just glad she bounced back up and wasn't hurt.
"It's part of a learning curve of new people coming in, especially when they get out of control like they do. They probably haven't told her yet when she gets out of control to shut the bike off.
"Now, she might have found that limit and will be more conscious the next time, 'I'm in that situation, I just better let off and save it for another day' because there's always a next race. That's our motto. … I'm just glad (Salinas is) okay."
Smith added that while he's never crashed a bike, he came close in his own rookie season, and it was a very valuable learning experience that has stuck with him ever since.
"I've never come off the bike, I hit the wall one time, but I never physically come off the motorcycle," Smith told NBC Sports. "I did that when I first got into my career, my first year I hit the wall.
These things are animals and they will hurt you.
"And I learned right then, look, these things are animals and they will hurt you. It's good that she got away from the bike. We've got all the leather suits and all the safety gear. Most times, if you get away from the bike, you're going to be fine. It'll tear the motorcycle up and you'll get a little bit of road rash. The person can come back the next race. I don't know if the bike will be ready for the next race, but she's fine and that's the main thing, that she's okay.
"I spoke to (Salinas) in the staging lanes and asked if she was good, she said yes. She'll probably be a little sore (Monday) but hopefully she'll be back at Norwalk (Ohio, the next race bikes compete in, June 20-23).