FORT WORTH, Texas – In an attempt to avoid a situation experienced last year when the Firestone Firehawk tires "blistered" at Texas Motor Speedway, INDYCAR and the tire manufacturer came prepared for Thursday night's practice.
Two different tire compounds are in the garage area as NTT IndyCar Series teams prepared for a two-hour practice session scheduled to get underway at 8 p.m. Eastern Time Thursday. Each team has 14 sets of the "primary" tire compounds, but if any teams experience blistering issues in the two-hour practice, there are 11 sets of an "alternate" tire compound available per team.
INDYCAR will also extend the practice session if teams have to use the "alternate" tires.
If there are no issues with the primary tire compound, the alternate tires will not be brought out and the teams will prepare for this weekend's DXC Technology 600 as usual with one tire compound used for practice, qualifications and Saturday's race.
The tires would be used on the right-side of the car.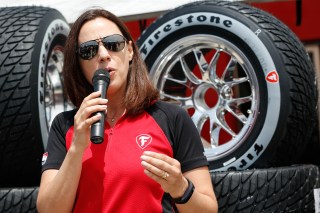 "We tested in October and Texas is a pretty severe track with pretty severe temperatures, we tested several compounds and we had a lot of blistering in that test," Cara Adams, Chief Engineer, Bridgestone Americas, told NBCSports.com. "We had one compound that didn't blister, but the teams didn't like it that much. We went back for a second test in March. It was a little cooler, but we developed several compounds that didn't blister at all.
"Our race tire here is a much cooler running and faster wearing tire. We don't expect to see blistering on that primary tire. Doing our due diligence and being very prepared we came up with a backup tire."
Firestone notified the teams last week at Detroit that an additional tire would be made available if there are issues with the primary tire across the field.
"If there are no issues, there are no reason we will run the alternate tires," Adams said. "Teams have 14 sets for the race weekend. If they switch to the backup tire, they will use two sets tonight and have nine sets of tires for the race itself."
This is also the first time in at least 15 years that a Thursday night test has been added to the IndyCar schedule at the 1.5-mile, high-banked Texas Motor Speedway. Saturday's race will be contested at relatively the same time period as Thursday night's test – 7 to 9 p.m. Central Time.
Since then, practice and qualifications would be held on Friday during the daytime and the race would be held Saturday night.
"We work really closely with IndyCar and decided to have this practice to make sure we were prepared," Adams said. "The challenge for Texas is to come up with a tire that wears sufficiently but does not blister. It's something our compounders have worked together with compounders across the Bridgestone organization to come up with a tire that wears more quickly.
"The aero specifications have changed a little bit and the track has lost grip from last year, so it will be interesting to see what the conditions are tonight. We made sure we met with the chief engineer and team manager from each team to make sure they had no concerns and were grateful we had a plan for a backup tire."
Rob Edwards, Chief Operating Officer at Andretti Autosport and race strategist for Alexander Rossi, was blunt with his thoughts on the tire situation.
"I prefer we have one tire (compound) and just get on with it," Edwards told NBCSports.com.